A Date with Judy
(1948)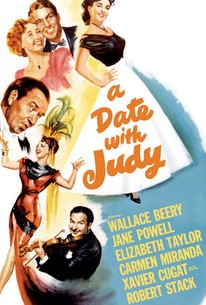 Movie Info
Jane Powell and Elizabeth Taylor headline this youthful musical comedy in which they play two teenage best friends who team up to help Jane's father Wallace Beery after they suspect him of having an affair with Brazilian fireball Carmen Miranda. Actually, the portly Beery is really only taking dance lessons from the lithe, lively Miranda so he can surprise his beloved wife. When not meddling in her father's affairs, Powell and Taylor find their friendship tested after they fall for the same cute guy. Songs include: "Cuanto la Gusta," "Strictly on the Corny Side," "Judaline," "Temptation," and "Mulligatawny."
Critic Reviews for A Date with Judy
Audience Reviews for A Date with Judy
½
Sweet comedy, a time capsule of teenhood in the movies in the 40's. Elizabeth Taylor is very young and very beautiful and Jane Powell is charming and pert. Carmen Miranda is a delight as always, her clothes are outlandish, take special note of her shoes and wonder how she could possibly walk in them! One quibble, the technicolor is unusually garish and at times the cast pratically glows orange.
A Date with Judy Quotes
There are no approved quotes yet for this movie.