A Day in the Death of Joe Egg
(1972)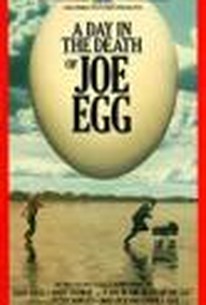 AUDIENCE SCORE
Critic Consensus: No consensus yet.
A Day in the Death of Joe Egg Photos
Movie Info
The plight of an English couple struggling to raise a disabled child is given a darkly humorous treatment in this English comedy. Based on the successful stage play by Peter Nichols, the film centers on the parents of Jo, nicknamed "Joe Egg," a mentally challenged invalid subject to violent seizures. The couple (played by Alan Bates and Janet Suzman) attempts to maintain a stoic and occasionally cheerful facade in the face of their daughter's condition, but they find themselves unable to cope with the strain. Faced with the imminent collapse of their marriage, they eventually agree that euthanasia may be the answer to their troubles. Some viewers may consider the subject matter inappropriate for comedy, but the film mines its uneasy laughter not from the child's plight but from the eccentricities of the parents' reactions. ~ Judd Blaise, Rovi
Critic Reviews for A Day in the Death of Joe Egg
Audience Reviews for A Day in the Death of Joe Egg
Part black comedy and part straight drama, "A Day in the Death of Joe Egg" is hard to classify. Perhaps "movies adapted from plays" is the most appropriate genre, because its staging has some of that typical drawing-room stiffness. Teacher/artist Bri (Alan Bates) and actress Sheila (Janet Suzman) are a sophisticated couple whose lives are saddled with a tragic burden: their disabled daughter Jo (Elizabeth Robillard, in her only film role). Alternately called a "spastic," a "vegetable" and other terms that may not be acceptable today, Jo looks about nine years old. She moans rather than speaks, has unfocused eyes and is not capable of voluntary movement. She only twitches with seizures. Bri and Sheila choose to deal with this awful situation through cynical wit ("God is a manic-depressive rugby footballer") and tart humor. The bulk of the script rests on their edgy interplay, and the full cast has only nine speaking parts. A babbling mother-in-law (Joan Hickson) is traditional comic relief, while family friends Freddie (Peter Bowles) and Pam (Sheila Gish) mirror our own discomfort. The other characters are fairly trivial. A scene on a tacky children's ride does add an amusing tour-guide part and a strangely uneventful Jean Marsh cameo. Bates is dazzling as usual, though his broad theatrics can be abrasive at times. Shakespearean actress Suzman is a fine foil, and also is game for some rather unnecessary nudity. The story's most powerful feature is its bold discussion of the euthanasia temptations that such parents shouldn't feel but inevitably do. The talk-based action drags a little, but a strong ending defies a scenario that seems wholly unresolvable. Director Peter Medak had quite a year between this film and the equally dangerous satire of "The Ruling Class."
Eric Broome
Super Reviewer
A Day in the Death of Joe Egg Quotes
There are no approved quotes yet for this movie.