Adrift
(2009)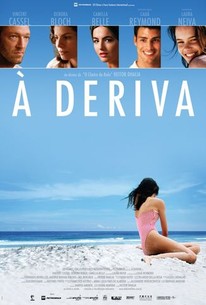 Movie Info
A teenage girl steps over the line into adulthood during a summer abroad in this drama from writer and director Heitor Dhalia. Mathias (Vincent Cassel) is a successful French novelist who packs up his family, including wife Clarice (Debora Bloch) and fourteen-year-old daughter Filipa (Laura Neiva), for a few months of vacation at a beachfront house in Brazil. While their surroundings are idyllic, not everyone is happy, and Filipa is aware of the obvious tension between her bickering parents. The contentious relationship between Mathias and Clarice explodes when she learns that he's been unfaithful with the younger and sexier Angela (Camilla Belle). Filipa, who is all too aware of her growing attraction to the opposite sex, is at once disturbed and excited when she spies Mathias and Angela making love, and she decides to act on her desires for a handsome neighbor in his early twenties. A deriva (aka Adrift) was an official selection at the 2009 Cannes Film Festival. ~ Mark Deming, Rovi
Critic Reviews for Adrift
Audience Reviews for Adrift
½
After his masterpiece Drained, Brazilian director Heitor Dhalia went on to make this third feature film, which strays from his usual narrative style and ventures into something more sober - only this time he seems to have plagiarized New Zealander film Rain.
Carlos Magalhães
Super Reviewer
½
To its credit, "Adrift" succeeds more by what it does not do than what it seeks to do, taking its time during an endless summer at a beach community in Brazil. Of special interest are the beautiful scenery and Vincent Cassel, cast against type and speaking Portugese. Unlike most of the other characters he has played, Mathias is quite domestic as a writer on vacation with his family. That's not to say that Mathias is without his share of danger signs, most of which emanate from his never having fully grown up. That sense of irresponsibility has led his wife Clarice(Debora Bloch) to drink as they argue about a possible adaptation of one of his works and eventually the logistics of a possible separation. While their son gets into a fight, it is their oldest, 14-year old Filipa(Laura Neiva), who is most conscious of what is going on around them. This is especially important because she has reached an age where she is taking an interest in boys for the first time, namely Artur(Daniel Passi) who faces an impossible question during a round of truth and dare. Not having the experience to know what the signals mean, she does not have the answers. But even worse, she has no questions.
½
A fourteen-year-old discovers her father's infidelity and her own sexuality. Adrift is a slow but striking film. We watch Filipa's every step with a feeling of impending doom, and Laura Neiva gives an inscrutable performance. Vincent Cassel, whose work is always compelling (even as he upstages big Hollywood stars in Oceans 13), turns in another phenomenal performance, a tour de force, nuanced character, in yet another language. The weakness of the film is its story, which, in the final analysis, doesn't amount to anything new. Yes, Mathias's reaction to the final scene is different than the cliches we're used to (and oh so European), but that's about all that sets this coming-of-age story apart from all the others. Overall, I enjoyed Adrift, as I sat tensely throughout the film, but after I thought about it, I realized I didn't see anything original, so Adriftbecomes an old film done very well.
Jim Hunter
Super Reviewer
Adrift Quotes
There are no approved quotes yet for this movie.