A Dog's Purpose
(2017)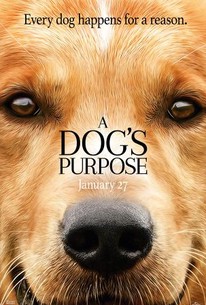 TOMATOMETER
AUDIENCE SCORE
Critic Consensus: A Dog's Purpose offers an awkward blend of sugary sentiment and canine suffering that tugs at animal-loving audiences' heartstrings with shameless abandon.
Movie Info
"A Dog's Purpose" shares the soulful and surprising story of one devoted dog who finds the meaning of his own existence through the lives of the humans he teaches to laugh and love.
Critic Reviews for A Dog's Purpose
Audience Reviews for A Dog's Purpose
So, yea, this is a movie that happened and that I watched. Originally I wasn't gonna review this, since I don't know what to say about this and how to put it into context. It's not that it's difficult, of course. I guess I'll just start by saying that I had a dog. I got this dog when I was a ten-years-old, a few months after my tenth birthday actually. To say that this dog was my best friend is quite an understatement. I realize that that's a bit of a cliched thing to say, but it really was true in my case. The private school I went to, I got there in the third grade and by then some of the students had been together since kindergarten, so friendships were already established. I did have a best friend all the way up until the seventh or eighth grade, I believe, when the classes got mixed up. After that, I did find a group of friends (which I was part of to begin with), of course, that I was very close to, but I never could shake the feeling of being an outsider. This wasn't as a result of anything my friends did, of course, it was just how I felt. Regardless, I've always felt that to be someone's best friend, they also have to consider you their best friend. It doesn't really work if it's a one-way thing, sort of like I can't consider Elizabeth Olsen my girlfriend when she doesn't even know who I am, right? Same logic, in my mind, applies to best friends. You could say that my dog was my best friend by default, but I don't really see it that way, because I fucking loved that dog. What ten-year-old kid doesn't love his dog, right??? He was always there and he never judged, not even once and I couldn't be more grateful to him for that. Being there when I was sad and cheering me up without even trying to. Anyway, I had to put him to sleep in 2013, when I was 25. It was one of the worst days of my life. And it's a loss that I still feel to this day. There's people who might say 'well, it's just a dog' and to those fucking dipshits I say that you do not know what that dog meant to me, so keep your fucking opinions to yourself. Sometimes the only thing some people have are their dogs and that emotional connection that is built between them shouldn't be mocked because, again, you do not know what that animal means to a particular person. Having said that, ever since that moment, I have pretty much tried my best to stay away from these sappy, sentimental, melodramatic movies where the dog dies. I even stayed away from the Jurassic Bark episode of Futurama and that might actually be the best episode of the entire series. The last two minutes of that episode are absolutely heartbreaking and this was years prior to having to put my dog to sleep. How this has any relevance to A Dog's Purpose is as follows, I didn't want to watch this movie, I really didn't. Because I knew it was gonna be exactly what it was, a syrupy, sentimental and melodramatic affair that shamelessly tugged at your heartstrings. And that is exactly what this movie was, down to a T. So, of course, I hear you think to yourself 'well, you stupid fuck, if you didn't wanna watch the movie, then why did you?' Let's just say my hands were tied and I didn't wanna be a dick to the person that did choose to watch this movie for us last night. So, here we are. I'll just say this right now, outside of everything, I did not think that this was a good movie. Not at all. It's not the worst movie I've seen this year, but it's not a good movie. I think the more positive reviews you see on sites like RottenTomatoes or Letterboxd are due to the fact that these people fell for this movie's melodrama hook, line and sinker. Some scenes were reminiscent of what I went through with my dog, particularly at the end, but that does not mean it is good storytelling. I just think the people behind this movie know how to manipulate the emotions and the connections a lot of us have felt with our dogs or, really, pets in general. Looking at the film, objectively, shows us that this is not a good movie. This is no different than a South Korean movie exploiting its characters backstories to justify a tragic climactic act. Except, in this movie, the tragedy is from beginning to end. The dog does, in fact, die three times in this movie. That's not really a spoiler as the film made it perfectly clear that it's the same dog reincarnated in a different body throughout the years and generations, actually. Regardless, being manipulative in exploiting people's emotions does not qualify you as a good storyteller, I'm sorry. While you could say that there is some sort of an arc, which is the dog trying to find out what his purpose is throughout his multiple lives, this really is just a series of YouTube skits with really high-production values that just happened to be narrated by Josh Gad pretending to be a dog for some 95-odd minutes. Honestly, a lot of the scripting is kind of nauseating and the fact that Josh Gad says some of these things with a straight face is nuts. This is sort of the 'Look Who's Talking Now' for dogs. Gad makes asinine observations about human behavior, Ethan and his girlfriend make out and the dog thinks that they're fighting with each other because aww, he's a dog, he doesn't know any better. It's that kind of asinine condescension that this movie specializes in and a lot of the 'comedy' is drawn from those observations of human behavior that are neither funny nor witty. The movie has admirable goals, I'll admit that, it's meant to show the connection and the importance between dogs and their owners. But this movie does it in the most manipulative and exploitative manner possible, which I already mentioned. This is like a Nicholas Sparks adaptation where someone dies tragically at the end. So, no, as someone who had a dog for fifteen years, during some of the most formative years of my life to be exact, this movie does not capture what my dog meant to me and the bond we formed in any meaningful way. It exploits that connection I had with him, yes, but it does not capture it accurately or tactfully. In fact, there's this movie called Bullet Head, a small crime thriller, that explores the relationships between the lead characters in that movie and their dogs. This relationship is explored through dialogue and it does SUCH a better fucking job at that than this movie ever did. And that's a fucking crime thriller. The thing is, however, that this movie isn't actually bad. There's hints of a decent movie here and there, but it just so happens that they give in to their worst tendencies and that ends up hurting the movie more than it helps. Because what's better than one sad dog death??? Three of them!!! What's the actual purpose of the whole reincarnation bit??? No real purpose, other than to manipulate your emotions and pull at your heartstrings more. There's no reason that this same story could not have been told through one life. Keep the same multiple owner angle, but just have it be the same dog. It would still be melodramatic and manipulative, but it would have felt more earned than what they did here. Look, if I criticize South Korean rom-coms for mawkish melodrama, I have to do it for this movie as well. It just ends up ruining what could have legitimately been a decent movie. It's certainly watchable and most dog lovers, who happen to be casual moviegoers, will eat this up. Objectively speaking, however, when analyzing everything the movie has to offer, this isn't good. I could get through this movie just fine, I just wish I hadn't.
Jesse Ortega
Super Reviewer
Great movie, but I am never watching it again. The dog dies several times and the scene with the cop devastated me. Not just a few tears, literally bawled in public. Anyone whose ever loved a dog is likely to cry! Very well made and good acting. I didn't realise this director did Hatchi as well. That figures. I cried in that one too! Not like this though. Surely a dog shouldn't die more than once per movie!!!
Nicki Marie
Super Reviewer
½
In the opening moments of the latest sun-drenched melodrama from director Lasse Hallström (Chocolat, Hachi: A Dog's Tale) a dog is born and just quickly a dog is euthanized. It's a strange way to open a PG-rated family film about man's best friend, but was apparently the best way to set the stage for a film whose premise is that of dog reincarnation as narrated by Olaf from Frozen. Sound strange? It is, a little bit, but not nearly as bad as you might think though not nearly as effective as it should be either. This is taking into considering the fact the writers/producers and Hallström don't shy away from exploiting what is arguably the easiest way to elicit tears from your audience-a dog dying. They do this at least four times. And yet, through each of these segments, each of these lives that we see different breeds and genders of dogs lead (all voiced by Josh Gad) there is never that moment that just breaks you in the way you expect a movie like this to do. It seems there was no hesitation in doing what it takes to get the audience to that point, but the execution never matches the intention thus making A Dog's Purpose more of a sleeper than the quickly euthanized pup we met in the first scene. read the whole review at www.reviewsfromabed.com
Philip Price
Super Reviewer
A Dog's Purpose Quotes
There are no approved quotes yet for this movie.