A Few Best Men
(2012)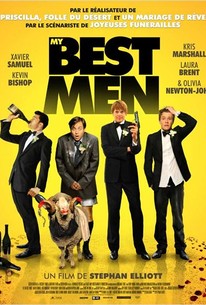 Movie Info
A groom-to-be and his three best men travel to Australia for an unforgettable wedding filled with chaos and culture clashes.
Critic Reviews for A Few Best Men
Audience Reviews for A Few Best Men
Brilliant film a really funny British comedy I don't know why it got so much hate, The main plot gets to work straight away and so do the laughs, It's so wrong and gross in places which suits it more than it should, A gross shocking comedy that should only be watched if you know how to turn your brain off and enjoy a film for what it is and not what you're used to because believe me you haven't seen a comedy like this.
Jamie Clarke
Super Reviewer
½
Not as terrible a movie as was to be expected considering that all it is is a series of worsening gross-out skits. Do not come into this movie expecting anything more than a dudebro film with a lot of raunchiness attached to it. There's not much of a story, none whatsoever to speak of, other than David's parents having died and him wanting to be part of a family, even though he hasn't realized that his 'bros' have been his family all along. That's essentially all there is to the film's narrative. Minimal stuff honestly and it's not like they play it up throughout the entire film, just bits and pieces near the end of it. Dick jokes? Check. Shit jokes? Check. Misunderstandings with drug dealers? Check. Gay jokes? Check. Australian stereotypes? Check. Culture clashes? Check. Something nearing animal cruelty that's played for laughs? Check. Please stop me if you've seen any one of these things more than once. It is ever R-rated raunchy comedy that you've ever seen. It's not worse than the worst one, not by a country mile, but it obviously isn't any good. It has its moments, like almost every bad film has. but those don't amount to nearly enough to make the film good. The problem is that, much like these films, it's honestly a series of skits completely unrelated to the wedding that's going all around them. They try to convince you otherwise, but you know what's really going down. You could take all the gross-out skits, put them into a video compilation, without the context of the "story" and it would be the same exact movie we got WITH the context of the story and the characters. And that's fine, but don't be surprised when people don't really find your film all that good. That's why I think films like Superbad, or even This Is The End, work in a dual fashion. You actually get some well thought-out raunch, you also do get some surprising character development about friendship and the connection you have to these people that, in some cases, you've grown up with your entire lives. This film copies the raunchier aspects but negates copying the most important thing and that is the heart. As I mentioned, it's not like I thought that this was awful, or even close to the worst film I've ever seen, but it's just an exercise in laziness and I just don't care for that. Much like Barbecue, it's the type of film that's more fun to shoot than it is to watch. It's even more pronounced here than it ever was in Barbecue. Can't exactly recommend it, but there's worse stuff out there.
Jesse Ortega
Super Reviewer
[img]http://images.rottentomatoes.com/images/user/icons/icon13.gif[/img] With a tremendously talented director like Stephan Elliott and a capable comedic cast I was quite happy to watch this movie despite all the overwhelming negativity and prejudice that's been bombarded against it. So I did, and I can safely say that you can trust the prejudice, it is possibly the most predictable and derivative comedy i've seen in a very long time. Now where to begin, firstly it's directed by a wonderfully talented man called Stephan Elliott and the script he's been given for this film is production line, bed, barf and beyond, and he is way above this sort of material, especially when you consider his legendary past achievements. Secondly, Elliott once wrote and directed a film called The Adventures Of Priscilla, Queen Of The Desert. And in my opinion, Priscilla is one of the funniest films ever made, I thought it was beautifully filmed, original, funny, likable, and it plucked at your heart strings as much as it made you laugh out loud. But all this manges to do is rip-off The Hangover in numerous scenarios and throw in some added gross out humour that comes across as awkwardly disgusting rather than actually funny. Seriously, this is the Hangover again but done less comedically, it's got animal theft, a drug dealer, 4 childish guys, a wedding, drinking, writing stuff on eachothers faces. It's got everything. There are a few laugh in it, but certainly not enough for 91 minutes. It's one of those misfired films that feels a whole lot longer than it actually is. I was bored throughout most of it. It's like they never even tried to make it funny, it's just so lazy. Priscilla was a dedicated project for him and it even got it's own stage show. Something tells me he didn't believe in the script either quite frankly. The only things that kept me watching it was to count how many obvious gags it was going to have, a lot, and wondering how Stephan Elliott ended up here, after making one of the best comedies ever caught on film.
Directors Cat
Super Reviewer
A Few Best Men Quotes
There are no approved quotes yet for this movie.