A Fish Called Wanda
(1988)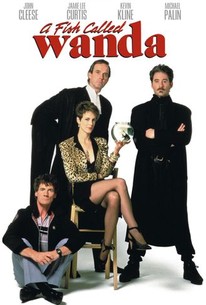 TOMATOMETER
AUDIENCE SCORE
Critic Consensus: Smartly written, smoothly directed, and solidly cast, A Fish Called Wanda offers a classic example of a brainy comedy with widespread appeal.
A Fish Called Wanda Videos
A Fish Called Wanda Photos
Movie Info
An ambitious and sexy con artist uses every tool at her disposal to obtain a fortune in jewels stolen by her mobster lover. To help in her plan, she woo's first her lover's deadly henchman and then his attorney, eventually falling in love with one of them.
Critic Reviews for A Fish Called Wanda
Audience Reviews for A Fish Called Wanda
It took me three attempts to get through this film, and everyone I've told about the challenge it presented me has looked at me like I have three heads. I think the movie shines in its plotting and its pacing, and I like that it's a heist movie with a comical twist, but to everyone saying "What are you talking about? IT'S HILARIOUS!", well, I disagree. Maybe it's just too dated now... or maybe Cleese left his best work in Monty Python or Fawlty Towers... something about the movie just didn't do it for me, and I wish that I could be more specific. The Kevin Kline aspect strikes me as a large part of it... the guy is just trying way too hard... his character's wacky, but not the least bit believable, and I think that's a problem when you're trying to play a crook: crime has to come from some real place inside, and to me, cartoony crooks always ring hollow. This being said, though, I think I can see this film re-watching well; my rating might improve on second viewing... or then again, as that would be my fourth attempt to enjoy this film, I'm not so sure it will.
Daniel Perry
Super Reviewer
John Cleese penned this farce on Brit/American "friendly" relations to hysterical effect as a jewelry store robbery and a search for the missing booty lead to pretty funny complications. The entire cast is to be highly commended, but Kevin Kline's fascist pig Yankee snob is the real gem here. Still potent after all these years!
Kevin M. Williams
Super Reviewer
Terrible funny and clever, A Fish Called Wanda it's a great comedy film with outstanding performances. Fresh.
Lucas Martins
Super Reviewer
A Fish Called Wanda Quotes
| | |
| --- | --- |
| Wanda Gerschwitz: | Let me correct you on a couple of things, OK? Aristotle was not Belgian. The central message of Buddhism is not every man for himself. |
| Wanda Gerschwitz: | Let me correct you on a couple of things, okay? Aristotle was not Belgian. The central message of Buddhism is not every man for himself. |
| Otto West: | You read... |
| Wanda Gerschwitz: | The London Underground is not a political movement. Those are mistakes. I Iooked 'em up. |
| | |
| --- | --- |
| Otto West: | Don't call me stupid. |
| Wanda Gerschwitz: | Right because calling you stupid would be an insult to stupid people! |
| | |
| --- | --- |
| Otto West: | What was the Middle part? |