A Galaxy Far, Far Away
(2001)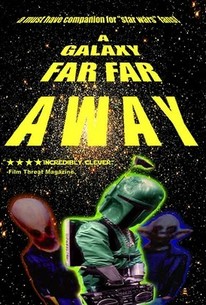 A Galaxy Far, Far Away Photos
Movie Info
No other series of films has achieved greater commercial success, or captured the attention of as many viewers, as Star Wars, its two sequels, and the continuing series of prequels. Filmmaker Tariq Jalil had long been fascinated by the passionate following the films inspired, and when the publicity machine began rolling for the release of Star Wars: Episode I -- The Phantom Menace in 1999, he assembled a camera crew to document the fans who waited in line (some for as long as a month and a half) in order to be among the first to see the long-awaited film on its first day of release. Along the way, Jalil also interviewed a number of other passionate Star Wars devotees, and the documentary A Galaxy Far, Far Away examines the cultural phenomenon of Star Wars fandom, from celebrities who stop by to see the film on opening weekend (including Samuel L. Jackson, Joe Pesci, Meat Loaf, and Roger Corman) to Star Wars-inspired rapper Jam Master Jedi and a number of rabid toy collectors who nearly riot while trying to get their hands on Episode I action figures.
Critic Reviews for A Galaxy Far, Far Away
All Critics (7) | Fresh (4) | Rotten (3) | DVD (2)
Triumph the Insult Comic Dog did a far better job - and actually a more sensitive job - with the fans waiting outside for the start of Episode II.
To the film's credit its topic supplies a wealth of material, philosophy, and entertainment -- and victim to it, A Galaxy Far Far Away meanders in the wide, overwhelming scope of its course.
Audience Reviews for A Galaxy Far, Far Away
½
Im not a Star Wars fan or a Star Trek fan but I watched the Trekkies documentaries & I watched this 1.In my opinion, A Galaxy Far Far Away is just as good as Trekkies.Both were entertaining & interesting to watch.I think if you're a fan of Star Trek you'll still like this documentary & vice versa.My only thing is there is just no way I'd camp outside for 37-42 waiting to see a movie premiere or be the 1st in line to get a toy
Brody Manson
Super Reviewer
A Galaxy Far, Far Away Quotes
There are no approved quotes yet for this movie.