A Ghost Story
(2017)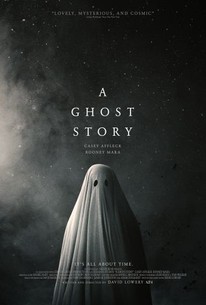 TOMATOMETER
AUDIENCE SCORE
Critic Consensus: A Ghost Story deftly manages its ambitious themes through an inventive, artful, and ultimately poignant exploration of love and loss.
Movie Info
With A GHOST STORY, acclaimed director David Lowery (AIN'T THEM BODIES SAINTS, PETE'S DRAGON) returns with a singular exploration of legacy, loss, and the essential human longing for meaning and connection. Recently deceased, a white-sheeted ghost (Academy Award-winner Casey Affleck) returns to his suburban home to console his bereft wife (Academy Award-nominee Rooney Mara), only to find that in his spectral state he has become unstuck in time, forced to watch passively as the life he knew and the woman he loves slowly slip away. Increasingly unmoored, the ghost embarks on a cosmic journey through memory and history, confronting life's ineffable questions and the enormity of existence. An unforgettable meditation on love and grief, A GHOST STORY emerges ecstatic and surreal - a wholly unique experience that lingers long after the credits roll.
Critic Reviews for A Ghost Story
Audience Reviews for A Ghost Story
Profoundly melancholy and devastatingly sad, A Ghost Story is a beautiful film about memory, loneliness and longing for something you lost forever. Full review on filmotrope. com
Carlos Magalhães
Super Reviewer
Not for everyone, especially those seeking a quick thrill, this rumination on death and the afterlife is laced through and through with poetry and longing, and wonderfully so. Especially entertaining are the remarks about time dilation, how it expands, how it contracts. The actors do well, but essentially only are the messengers of the director's vision on the nature of life. See this when you've got quiet time.
Kevin M. Williams
Super Reviewer
David Lowery is fast becoming a director to keep a close eye on. His Malick-esque Ain't Them Bodies Saints struck a strong indie and meditative vibe before he, somewhat bizarrely, took on Disney's remake of Pete's Dragon and made a huge success out of it. Now, though, Lowery returns to the same tone of Saints by delivering a very unusual and unique take on a ghost story. With a brief synopsis of the plot or by even judging the films poster you'd be forgiven for thinking that this film is possibly a joke or at least one that relies heavily on humour. But it's not and it doesn't. This is a very poker-faced meditation on memories, attachments and loneliness and, for those with an open mind, it works an absolute treat. Plot: A musician (Casey Affleck) and his wife (Rooney Mara) prepare to move from their rural house before the musician is suddenly killed in a car accident. Waking on a mortuary slab in a white sheet, his ghostly spectre returns to his house where he has to witness his wife's grief and come to terms with the fact that he is no longer part of our waking world. Lowery's film is a very simplistic one. He starts slowly and quietly by using minimal dialogue and he adds little to no backstory on his two main characters, refusing to even give them names. Mara and Affleck are merely credited with the initials 'M' and 'C' respectively and it's this sparse approach that lends the film its intrigue. For those expecting or demanding jump scares or shrieking damsels you'd be better served by looking elsewhere. It does have its ghostly apparition but that's as far as it goes in terms of it feeling anything like a horror. This is, in fact, more a rumination on life and the impact (or lack of) that an individual has with their time on this earth. It focuses on grief and the passage of time whereby everything that was once important to a person will inevitably be washed away and, in the grander scheme, their existence ultimately becomes inconsequential. Lowery gives plenty of food for thought here and skilfully achieves the impact of time by employing a languorous pace. The pacing will put many viewers off as there is a certain commitment and patience required when exploring C's torturous purgatory but there's also a genuine intimacy at work. C witnesses his wife's grief while being unable to provide any comfort or solace just as he also witnesses her move on with her life when she eventually brings a date home and then packs up to leave the home that they once shared. It's in these moments that you identify with C's grief and one scene in particular has another ghostly spectre appear at a neighbours window. They both communicate with each other on how they're just "waiting for someone" but can't remember who and it's at this point that you realise the nightmarish isolation that these wandering souls are left with. Their essence and being has essentially been forgotten which resonates strongly with the existential musings from time immemorial. A genuinely heartfelt and thought provoking piece of work. Lowery explores the metaphysical with more than a tinge of despair and deep sadness. For a concept that would normally be laughed out the door, Lowery and his cast deserve the utmost praise for attempting something very different and, better still, managing to pull it off when they could so easily have failed. This film may be slow but it's also rich and hugely rewarding when you allow it to express its elegiac tones. Mark Walker
Mark Walker
Super Reviewer
A Ghost Story Quotes
There are no approved quotes yet for this movie.