A Good Old Fashioned Orgy
(2011)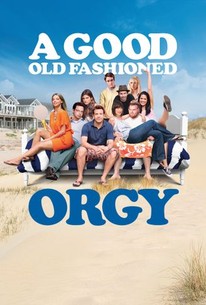 TOMATOMETER
AUDIENCE SCORE
Critic Consensus: Its titillating title promises ribald laughs, but the lazily written, indifferently acted, and only sporadically funny A Good Old Fashioned Orgy fails to consummate.
A Good Old Fashioned Orgy Photos
Movie Info
An arrested adolescent hell-bent on good times decides to throw a different sort of bash in this comedy. Eric (Jason Sudeikis) is in his early thirties, but he hasn't changed much since his high school days -- the guy lives to party with a handful of his old friends, and the crazier the get-together, the better. Every summer, Eric throws an epic-scale theme party at his parents' home in the Hamptons, as he and his pals get crazy at the "White Trash Bash" or a "Star Wars vs. Star Trek" throwdown. However, this grand tradition is about to end, as Eric's dad (Don Johnson) has announced he's selling the house. Eric decides he should save the biggest party for last, and tells his friends he's hosting an orgy. While Eric and his male friends are just thick-headed enough not to see the problems inherent in having group sex with some of their best friends, the gals in their social circle are more hesitant, but most decide to sign on, at least in principle. However, Eric has become infatuated with Kelly (Leslie Bibb), the attractive real-estate agent who is selling the house, and decides to invite her to the big blowout without telling her just what kind of party she can expect. Also starring Will Forte, Tyler Labine, David Koechner, Lake Bell, and Lindsay Sloane, A Good Old Fashioned Orgy was the first directorial project for Alex Gregory and Peter Huyck, who previously served as writers and producers on the television comedies King of the Hill, The Larry Sanders Show, and Frasier.
News & Interviews for A Good Old Fashioned Orgy
Critic Reviews for A Good Old Fashioned Orgy
Audience Reviews for A Good Old Fashioned Orgy
McCrudden: Endurance training. For Labor Day. "A comedy about old friends in new positions." I was pleasantly surprised by A Good Old Fashioned Orgy. Actually, I kind of hate myself for not giving it a better rating, but I had some qualms with how it decided to wrap up everything. I didn't expect this to be such a well made and actually involving film and when it actually got to the orgy, the scene had some heart involved. It was the disgusting, vile film I thought it would be. Sure there was the typical gross out dialogue, but nothing like you'd expect from a film titled, A Good Old Fashioned Orgy.  A group of friends always congregate to the leaders(Eric) summer house, where he throws wild parties. The only problem is he doesn't own it; his dad does. When his dad decides to sell it, they all decide to throw one last party. Now all the parties always had themes, and this time, Eric decides to make that theme, "A good old fashioned orgy." Only the close nit group of friends will be invited to this one and it takes some talking to get some of them to join. I can understand the negative reviews. A lot of people just don't like movies that are like this, based in sex. The only thing is, is at the heart of this film is friendship. It's not as single minded as you would be led to believe and I actually thought the movie did an amazing job of commercializing the plot, to a degree.  Look, this isn't great filmmaking, it's not necessarily intelligent filmmaking, but it is a lot of fun and extremely funny. While, I'm giving this a mild recommendation; subjectively I enjoyed this a lot more than my rating indicates. It was a pleasure to watch and I was surprised by how much I enjoyed the performance from Jason Sudekis. The rest of the cast wasn't too bad either. I especially liked Tyler Labine. This is one of those late night movies to watch when you don't really want to think, but just want to have a few laughs.
Melvin White
Super Reviewer
½
Surprisingly well made and certainly enjoyable, Orgy is an indie comedy that bases itself on the characters, and their intense bond as lifelong friends over sexual humor almost every time. It boasts an impressive cast of character actors included Lindsay Sloane, Leslie Bibb, Lake Bell, Lucy Bunch, and Michelle Borth as the hold their own women. On the other side are all seminally famous leading men, including SNL's Jason Sudeikis as our portagonist, Eric, comedian Nick Kroll, Reaper's Tyler Labine, and Freaks and Geeks alum Martin Starr. I was watching with the inexplicable desire to compare this film to another about a large group of old friends who are put at odds: The Big Chill. Both have humor that borders on the goofy but in a lackadaisical connotation, both have a large cast that are very believable, and both are great films to watch in order to lose yourself for a bit of time. Unlike its predecessor it does not touch on serious themes such as suicide, homosexuality, or impotence. It's more of a silly romp that never takes itself particularly seriously. The title alone probably suggests something that stays tame and relies on petty, vulgar jokes to keep its momentum. Instead there is also a biting wit and a penchant for the absurd that bolsters it into being something that straddles the line between its rating and an R. It dares to go to the extreme unlike many other films, delivering something that is beyond expectation. The film does examine the intricacies of friendship and the pros and cons of having an orgy, even with these eccentric circumstances. Really, it's much better than all the evidence suggests, and delivers in a big way.
Spencer S.
Super Reviewer
Cast: Jason Sudeikis, Leslie Bibb, Lake Bell, Michelle Borth, Nick Kroll, Tyler Labine, Angela Sarafyan, Lindsay Sloane, Martin Starr, Lucy Punch, Will Forte, Rhys Coiro, Don Johnson Director: Alex Gregory, Peter Huyck Summary: When his father opts to sell the family vacation house in the Hamptons, a sophomoric 30-year-old (Jason Sudeikis) realizes the home's tradition of summer parties will soon end. So he decides to go out with a bang -- with many bangs, actually -- by throwing an orgy. Enlisting the help of his best pals, he sets out to make the dream a reality in this rowdy comedy, also starring Will Forte, Lake Bell, Leslie Bibb and Michelle Borth. My Thoughts: "Silly... yes. Stupid... yes. Funny... yes. That is all the reason I needed to keep watching this movie. That, and I think Jason Sudeikis and Tyler Labine are funny guys. They are a pretty good duo in this film and keep the laughs a flow. The whole cast was pretty great. There is plenty of humor in the film and it is made to be silly/stupid/funny. I mean the title says it all. By the way, not a great movie to be watching when your thirteen yr old ask's which film your watching. I lied of course but still, awkward. Just not a title you want to blurt out to most. But back to the movie. I was pretty sure I wasn't going to like it, but I laughed a lot and really enjoyed the fun of it. You can't take the film seriously. But that should be a given. If your in the mood to relax and laugh to a silly film, then this one is for you. Enjoy."
♥˩ƳИИ ƜѲѲƉƧ♥
Super Reviewer
A Good Old Fashioned Orgy Quotes
| | |
| --- | --- |
| Kelly: | How much do you drink at theses parties? |
| Eric: | A lot. It's kind of a social obligation. |
| | |
| --- | --- |
| Vic George: | My breath is natural...Unlike your vagina! |
| | |
| --- | --- |
| McCrudden: | Endurance training. For Labor Day. |
| | |
| --- | --- |
| Glenn: | What the fuck are you doing with a rope on your cock at my wedding? |