A Hole in One
(2004)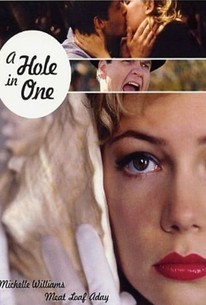 TOMATOMETER
AUDIENCE SCORE
Critic Consensus: No consensus yet.
Movie Info
A Hole in One is set in 1950s America. Anna (Michelle Williams), a passive young woman living in a small town, where she is betrothed to a powerful local hoodlum, Billy (Meat Loaf Aday), is searching for a key to her unhappiness. Her younger brother came home from the World War II a different man, and was subjected to shock treatments in a mental hospital before his untimely death. Dr. Harold Ashton (Bill Raymond) has been selling his new book, intended to advance the cause of a new scientific "advancement" in psychiatric care, the transorbital lobotomy. Ashton promotes this procedure, done with an ice pick that he keeps tucked in his vest, as a cure for all kinds of mental illness, major and minor. After witnessing Billy commit a brutal murder, Anna reads a Life Magazine article on lobotomies, and soon decides that the procedure is right for her. She asks Billy for his permission. Billy, concerned about Anna's ability to function, convinces Tom (Tim Guinee), one of his employees, to pose as a doctor so he can tell Anna that she doesn't need a lobotomy. But when the two meet, they quickly find that they have a connection that will put their lives in imminent danger. A Hole in One marks the feature debut of writer/director Richard Ledes. The film had its world premiere at the 2004 Tribeca Film Festival.
Critic Reviews for A Hole in One
Audience Reviews for A Hole in One
[font=Century Gothic]"A Hole in One" takes place in 1953 in the small hamlet of Ice Town where Anna(Michelle Williams) fears she is losing her mind after witnessing the murder of a friend by her mobster boyfriend(Meat Loaf Aday). She feels that a lobotomy will solve her problems, as demonstrated by Dr. Ashton(Bill Raymond) as part of the local Mental Health Week. As shown, the Trans-Orbital Lobotomy is a simple procedure performed with an ice pick...[/font] [font=Century Gothic][/font] [font=Century Gothic]"A Hole in One" is a victory of design over any kind of coherence. There are at least three or four separate elements to this movie that never come together. The most interesting of which are the mental health issues and lobotomy but that is definitely from a historical perspective. And the movie misses a valuable opportunity to link the infamous procedure to the conformity of the 1950's.[/font]
A Hole in One Quotes
There are no approved quotes yet for this movie.