A l'aventure
(2009)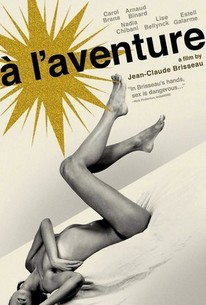 AUDIENCE SCORE
Critic Consensus: No consensus yet.
Movie Info
French filmmaker Jean-Claude Brisseau once again explores the nexus of the body, the mind and the soul in this sensual drama. Sandrine (Carole Brana) has become vaguely dissatisfied with her life, but isn't fully aware of the depth of her ennui until she strikes up a conversation with stranger in the park who discusses his philosophy of the emotional dead end that traps so many in this day and age. Newly aware of the rut she's fallen in, Sandrine leaves behind her job and an unfulfilling relationship with her boyfriend before encountering Greg (Arnaud Binard), a psychiatrist who is an advocate of hypnotic therapy. Sandrine allows Greg to use his techniques to help her tap into the depth of her erotic desires, and when she meets Sophie (Lise Bellynck), Greg's former lover who is willing to share tales of her own sexual explorations, Sandrine embarks on an odyssey to embrace the outer limits of her carnal imagination. A L'aventure was the third film in a trilogy of erotic tales from Jean-Claude Brisseau, following Les Anges Exteminateurs (aka The Exterminating Angels) and Choses Secretes (aka Secret Things). ~ Mark Deming, Rovi
Critic Reviews for A l'aventure
All Critics (4) | Top Critics (2) | Fresh (3) | Rotten (1) | DVD (1)
Frankly, I wasn't terribly impressed by this tale of a sexually dissatisfied woman.
Some of the philosophical conversations go on a bit too long but it's still an interesting film with some good performances (and some of the most beautiful actresses on the planet).

The tenderness that À L'aventure discovers as it stares into the void might be its most radical gesture of all.
Audience Reviews for A l'aventure
½
A pretty good erotic drama that seems to be more interested in it's own idea's than mearly titilating the audience, and it is all the better for it. Revolves around Sandrine a young women who is bored with her fiance, her job and life in general. She leaves her fiance and her job and begins a quest of self exploration and realization that involves sexuality, hypnosis and plenty of philosophical musings. I feel that the movie would have been more interesting if a little more time was spent on Sandrine's life before she breaks away from the routine. Instead we meet the character already fed up, and within the first 10 minutes she has already begun to "find herself." That complaint aside the pace of the movie is fairly slow and the philosophical dialouge does tend to drag on a bit, but this is still a very enjoyable and intelligent film even if it is a tad pretentious. There's always a fineline between Eroticism and Softcore and this film falls firmly in the territory of Eroticism. While there is plenty of sex in this movie (traditional man/women missionary style fare alongside plenty of lesbianism and a little S&M for good measure) this film isn't about sex. The sex is there to help drive the story forward, in the same way violence is featured in horror films. All in all a worthwhile film, that is worth a watch for those into this kinda stuff.
Ed Fucking Harris
Super Reviewer
½
A L'Aventure a movie from Jean Claude Brisseau was about a woman tired of living the normal and usual life and wanted more for her life. She did not felt the satisfaction in her long time boyfriend, and she started to explore her body. She met a psychologist, and soon she started to watch other people making love, and exploring both herself and others .Brisseau's movie wanted to show how much pleasure these characters were denying and limiting for their selves. They practised some light form of SM, lesbians intercourse,and sex under hypnosis. They were open for every challenge and nothing was taboo.The conversations went on too long in the hypnosis scenes, and made the movie so boring and so uninteresting.The ending was confusing.
Daisy Maduro
Super Reviewer
½
Sandrine, bored with sex and life in general, takes a year off from the rat race and meets some libertines who explore the intersection of sex, hypnosis and religious ecstasy. A bit reminiscent of a talkier and less exotic EMMANUELLE (1974), except this is pretentious, pseudo-mystical softcore that's only sporadically arousing. Only the French could make sex this dull.
A l'aventure Quotes
There are no approved quotes yet for this movie.