A Little Chaos
(2015)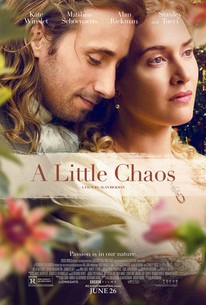 TOMATOMETER
AUDIENCE SCORE
Critic Consensus: Stylish and well-acted without ever living up to its dramatic potential, A Little Chaos is shouldered by the impressive efforts of a talented cast.
Movie Info
A romantic drama following Sabine, a talented landscape designer, who is building a garden at Versailles for King Louis XIV. Sabine struggles with class barriers as she becomes romantically entangled with the court's renowned landscape artist. (C) Focus World
News & Interviews for A Little Chaos
Critic Reviews for A Little Chaos
Audience Reviews for A Little Chaos
Perhaps Alan Rickman's swan song, perhaps a graceful exit orchestrated by an artist for whom the time was nearly up, this labor of love (or ego, it's hard to say) is about the work put in to produce a work of art. Yes, there's also a romance, and yes, there's also some little intrigue in the court of the Sun King, but the major focus is that of an artist (or artists) creating art - it's no bed of roses. The collaborators are earnest, and the work is finally delightful. And adieu, sweet Prince, adieu.
Kevin M. Williams
Super Reviewer
A terrific cast, headlined by Kate Winslet, Matthias Schoenaerts, Alan Rickman (who also co-wrote and directed), and Stanley Tucci brings the court of King Louis XIV to life in this tale of one of the people who designed and helped to build the magnificent gardens of the Palace Versailles. A landscape designer out of necessity, Madame Sabine de Barra disdains order in her designs and therefore catches the interest of the man charged with the overall plan of the garden and is hired to create the outdoor ballroom in a natural amphitheater setting in the midst of the garden. She struggles with the protocols and intrigues of the palace and yet, through her grace and natural charms comes to the attention of the KIng. There are deep emotions pulling at Madame de Barre brought about by a family tragedy that she blames herself for. And it is this trauma that provides the underpinning tension of the film. Kate is as lovely as ever, and it is a joy to watch her ply her craft. Alan Rickman is quietly subdued as the monarch whose every whim is ready to be indulged by the sycophants around him, especially when personal tragedy visits the royal house. The scene between the king and Madame de Barra, when she mistakes him for the royal gardener, is the pivot point on which the film turns and it was beautifully done. Stanley Tucci was marvelous in a smaller, but no less important role. The photography was sumptuous. So many beautiful scenes, and the judicious use of close focus was extraordinarily well done.
Mark Abell
Super Reviewer
Sumptuous costumes, beautiful locations, and a near-minimalist sound track put in exquisite juxtaposition to a baroque setting are not enough to save this humdrum romance from settling into dullness. Winslet is good, but Schoenaerts looks and comes across like Vladimir Putin at a costume ball. Rickman doesn't quite fit into the elegant surroundings and at times seems like a sovereign lacking confidence for no apparent reason. Methinks the French revolution might have come sooner had The Sun King been as flimsy as Rickman portrays him. The lack of impactful performances may have been influenced by a too-subtle script that the actors simply weren't able to pick up on. There are fine aspects to this film, but it's really not a crowd pleaser.
Christian C
Super Reviewer
A Little Chaos Quotes
| | |
| --- | --- |
| Madame De Montespan: | Her kindness . . . unbribed. |
| | |
| --- | --- |
| Suzanne: | I lost my husband and my son on the battlefield . . . I'm barely here. |
| | |
| --- | --- |
| Madame de Barra: | Today you said I was reckless but to be reckless is to abandon safety; but I think maybe it is safety that has abandoned me. |