A Little Help
(2011)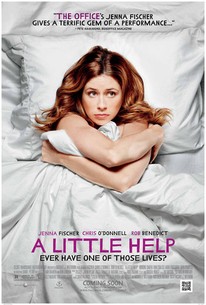 Movie Info
It's a movie for everyone whose life has been thrown off-course, out of whack, or simply not turned out the way they planned it. In other words, it's a movie for everyone, period. Set in suburban Long Island in the summer of 2002, with the psychic wounds of 9/11 still fresh, A Little Help is a story that takes a comic, searching and profoundly empathetic look at a few pivotal months in the life of dental hygienist Laura Pehlke (Jenna Fischer)-an ordinary woman whose life suddenly flies off the rails-and her heroic efforts to re-establish a sense of security and normalcy for herself and her son. -- (C) Official Site
News & Interviews for A Little Help
Critic Reviews for A Little Help
Audience Reviews for A Little Help
½
This movie is a little slow, but the cast is good. I always thought Fischer was easy to watch as an actress, regardless of what role she plays, and she doesn't disappoint in this one. Worth watching, but not going to win any awards.
Cynthia S.
Super Reviewer
A Little Help is what I wish I could have given to the main character, who is so trapped under the dysfunction of her family that she is wreaking havoc on herself and within her mind. I was really surprised by the level of dramatic tension and haunting dexterity of Jenna Fischer's performance. Most well known for her awkward comedy chops on the NBC show The Office, Fischer seems destined to be a dramatic indie actress. She molds this film expertly as the disheveled Laura, who goes through a life changing experience and doesn't change. Early on her husband dies, and a chain reaction is set off that ruins the life of her son, changes the attitudes of her mother, sister, and brother-in-law, and leaves her penniless and lost without hope. Throughout the film we watch Laura squirm to find some salvation, some answer to the reason why she is outcast from everyone she meets. Laura is likable in many respects, and real in her lapses in judgment and the way she lives her life. She does try to find simple comforts, or at least some escape from the bitter mourning of her husband, and the judgmental looks of her young son. Her son, by the way, was certainly the best part of the movie, as he maneuvers through life by letting his mother lean on him in times of crises, and sets her out to dry during the others. The actor in question (Daniel Yelsky) is one to watch in the coming years. Really, it's about people whose lives haven't turned out the way they wanted by simple events they can't control. It's set in 2002, a while after 9/11, which was addressed within the film. It really helps open the wounds of many characters, and shows the pink underbelly of those with little to cling to. Really, it's impressive what this film did with what it had, and was great to say the least.
Spencer S.
Super Reviewer
Cast: Jenna Fischer, Chris O'Donnell, Rob Benedict, Kim Coates, Lesley Ann Warren, Brooke Smith, Aida Turturro, Nadia Dajani, Arden Myrin Director: Michael J. Weithorn Summar: "King of Queens" creator Michael J. Weithorn makes his feature-film directorial debut with this indie dramatic comedy starring Jenna Fischer ("The Office") as a recently widowed single mom. Looking for solace anywhere she can find it, Laura (Fischer) reconnects with an old beau -- perhaps not the wisest of choices, since he's also her sister's spouse. My Thoughts: "Jenna Fischer is quite good in her role as Laura. Laura is a wife to a cheating husband, a mother to an absolute brat of a child, a daughter to an over baring mother, and a sister to Kathy who is angry and jealous of her. Laura is a mess who anyone can relate to. She finds herself in a somewhat mid-life crisis after her husband passes. I really enjoyed the movie. Rob Benedict was great as Paul as well as Daniel Yelsky as Dennis. It was a great indie dysfunctional family flick. The kind I like. It helps to remind you your family is just as insane as everyone else's and you're not alone in the dysfunction of it all. Good stuff."
♥˩ƳИИ ƜѲѲƉƧ♥
Super Reviewer