A Lonely Place to Die
(2011)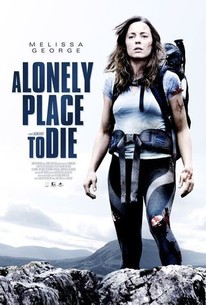 A Lonely Place to Die Photos
Movie Info
A group of five mountaineers are hiking and climbing in the Scottish Highlands when they discover a young Serbian girl buried in a small chamber in the wilderness. They become caught up in a terrifying game of cat and mouse with the kidnappers as they try to get the girl to safety.
Critic Reviews for A Lonely Place to Die
Audience Reviews for A Lonely Place to Die
½
What starts out as a pretty decent mountaineering thriller soon turns survival horror movie and would have done well to keep it that way. The plot is abandoning the beautifully filmed Scottish Highlands way too soon just to add an urban showdown that feels so random, it's almost an entirely different film. Of course you can say at least things are never too predictable, but the way the scripts treats a couple of characters is pretty lackluster. Still, entertaining enough.
½
[img]http://images.rottentomatoes.com/images/user/icons/icon14.gif[/img]
Directors Cat
Super Reviewer
½
Started off boring. Picked up. Then went back to boring in the last half hour. Seriously, these people were pretty damn stupid.....SPOILERS........... What was with the guy "distracting" the baddies by pretending he was carrying the little girl? Obviously he was going to get shot, thereby leaving Melissa and the little girl with a guy with a broken leg. (Gee, wonder how much use HE was going to be?!). Also, why would you sacrifice your own life for a child you don't even know?! I get it if its your own kid or related, and for sure you would try to help the child, but die for it intentionally? I don't think so. When the girlfriend got shot on the rocks, no one seemed to notice. It was like, oh why does the child have blood on her and its not her own. Gee, I don't know, someone obviously kidnapped this little girl and buried her underground, most likely for a ransom since they left her air and water. Do you think they might be slightly pissed you took her and looking for her?! Scenery is beautiful. Acting so so. Melissa does a horrendous accent. Don't even know the name of her character, that's how much of an impression this made. In all honesty, it does work in the first half, good suspense. But then they get out of the forest and it all gets so stupid I didn't care anymore.
Nicki Marie
Super Reviewer
A Lonely Place to Die Quotes
| | |
| --- | --- |
| Rob: | Remind me why we do this again? |
| Ed: | Because we don't surf. |
| | |
| --- | --- |
| Alison: | Complacency is a killer out here. |
| | |
| --- | --- |
| Alison: | I think that's a golden eagle. |