A Long Way Down
(2014)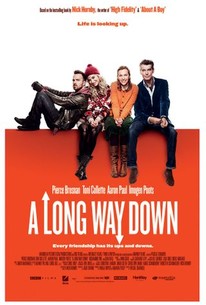 TOMATOMETER
AUDIENCE SCORE
Critic Consensus: Tonally jumbled and conceptually ill-advised, A Long Way Down bungles its source material and wastes a talented cast.
Movie Info
Four lost souls - a disgraced TV presenter, a foul-mouthed teen, an isolated single mother and a solipsistic muso - decide to end their lives on the same night, New Year's Eve. When this disillusioned quartet of strangers meet unintentionally at the same suicide hotspot, a London high-rise with the well-earned nickname Topper's Tower, they mutually agree to call off their plans for six weeks, forming an unconventional, dysfunctional family, becoming media sensations as the Topper House Four and searching together for the reasons to keep on living. (c) Magnolia
Critic Reviews for A Long Way Down
Audience Reviews for A Long Way Down
½
Not as funny or exceptional as the book but with good actors and its heart in the right place. Still, especially the beginning is awfully rushed, giving those four characters no good reason to get acquainted with each other. Things improve from there but this still could have been so much deeper, funnier and more touching.
½
Wasting a talented cast on a terribly coincidental plot that never works for a second is a damn shame. Aaron Paul, Pierce Brosnan, Toni Collette, and Imogen Poots all lead this film as four strangers meet on a rooftop on New Years Eve. As they all share different reasons for wanting to kill themselves, they decide to make a pact to wait and see if they still want to on Valentine's Day. The plot is ridiculous enough for one person, even two, but four? This outlandish and risky topic is turned into a tonally weird film that is both supposed to be taken seriously, while also trying to be funny. It never really reaches either mark, and it left me more puzzled than anything by the end. This film didn't even work as a showcase for these actors, because the script is so simply written that I did not care what they were saying. Giving backstories of each character set after the main events of this film was a very odd decision, as you kind of started to see exactly what was going to happen to everyone before it actually did. In the end, "A Long Way Down" is a tonally jumbled film with a great cast. I still do not really comprehend the message it was trying to send out, and for that, I strongly disliked this film. I do not recommend whatsoever.
½
Really quite lovely. I didn't like Nick Hornby's book due to its multiple narrators schtick, but the cinematic treatment only switches once per character and at very opportune spots too so that each person's reasons for committing suicide is evenly plotted out. The scene stealer for me was Imogen Poots, an ingénue with an unfortunate name but a face that is jubilant one second and numbly crestfallen the next. I love that scene when Jess comes out of the hospital in her open-backed gown - all cheeky bravado (literally and figuratively), striking a rockstar pose, then all hot, snotty, mascara-streaked mess as she tries to explain away her accidental overdose. Toni Collette is also brilliantly reserved and makes maternal instinct look like a matter of course. Pierce Brosnan - not usually lauded for his acting - plays the aging playboy with sleaze yet gravitas. Martin's monologue about feeling humiliated felt both emotionally and physically painful, as reflected in Brosnan's taut jaw and gritted teeth. Aaron Paul is Aaron Paul - intense, swaggery, serviceable.
Alice Shen
Super Reviewer
A Long Way Down Quotes
There are no approved quotes yet for this movie.