A Mile in His Shoes
(2011)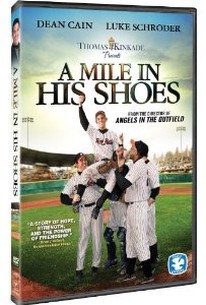 AUDIENCE SCORE
Critic Consensus: No consensus yet.
Movie Info
A minor-league baseball manager (Dean Cain) recruits an autistic farm boy (Luke Schroder) to be a pitcher for his team. Based on the 2008 novel The Legend of Mickey Tussler by Frank Nappi.
Critic Reviews for A Mile in His Shoes
Audience Reviews for A Mile in His Shoes
½
Based on the novel, The Legend of Micky Tussler by Frank Nappi, comes the Canadian film, A Mile In His Shoes. While the basic story remains the same, the film was significantly different than the novel. The new story transfers much better to film, but takes far too much away from the original novel. Micky Tussler (Luke Schroeder) is a mid-western farm boy, who suffers from Aspergers Syndrome. One day fortune finds him, as the manager of an independent baseball team's car breaks down in front of his farm. While waiting for a tow truck, Arthur Murphy (Dean Cain) observes Tussler throwing apples to his pigs, and realizes that the kid has a lot of potential. The story originally took place in the 1940's and it was much easier to understand the hardship and discrimination Tussler faced. When the film changes the story to modern day, there isn't much of a stigma associated with Aspergers and that whole angle seemingly disappears from the story. The film being made for TV is also problematic, as rather than being a story of a kid who had to overcome overwhelming odds, it plays more like a Disney movie, about some loveable idiot and the coach who takes him under his wing. The whole message of the original story is basically gutted for TV and as someone who really enjoyed the novel, I resent that. Luke Schroder, son of Rick Schroder, stars as Micky and was really the only bright spot in this film. This was his film debut and he played it as though he'd been acting for years. Growing up around the business must have made it very easy for him to slip into the profession, and his performance was very admirable. As for the rest of the cast, they are just along for the ride and as I said, for me, the film takes too much away from the original story and plays like a dreaded Disney movie, in one of those rare instances where I wish I'd just stuck with the novel.
Todd Smith
Super Reviewer
A Mile in His Shoes Quotes
There are no approved quotes yet for this movie.