A Million Ways to Die in the West
(2014)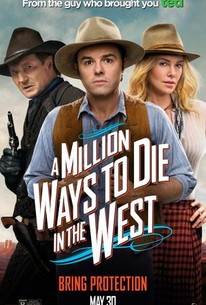 TOMATOMETER
AUDIENCE SCORE
Critic Consensus: While it offers a few laughs and boasts a talented cast, Seth MacFarlane's overlong, aimless A Million Ways to Die in the West is a disappointingly scattershot affair.
A Million Ways to Die in the West Videos
A Million Ways to Die in the West Photos
Movie Info
Seth MacFarlane directs, produces, co-writes and plays the role of the cowardly sheep farmer Albert in A Million Ways to Die in the West. After Albert backs out of a gunfight, his fickle girlfriend leaves him for another man. When a mysterious and beautiful woman rides into town, she helps him find his courage and they begin to fall in love. But when her husband, a notorious outlaw, arrives seeking revenge, the farmer must put his newfound courage to the test. Starring alongside MacFarlane are Oscar (R) winner Charlize Theron, Liam Neeson, Amanda Seyfried, Giovanni Ribisi, Sarah Silverman and Neil Patrick Harris. MacFarlane reunites many of the filmmakers behind Universal and MRC's hit film Ted including Scott Stuber (Bluegrass Films) and Jason Clark who produce, and Wellesley Wild and Alec Sulkin who co-wrote the script. (c)Universal
Critic Reviews for A Million Ways to Die in the West
Audience Reviews for A Million Ways to Die in the West
½
With a kind of clever (and really funny) humor that may not appeal to everyone's tastes, MacFarlane finds the perfect balance between slapstick nonsense and raunchy scatology (he knows how to make excrement jokes hilarious), while exploring the gorgeous sight of the landscapes.
Carlos Magalhães
Super Reviewer
Seth Macfarlane has rapidly become of the most divisive comedians of the modern era. The continuing, often baffling success of Family Guy and American Dad! have made him as successful as the creators of The Simpsons, earning him millions of fans and an equal number of critics, both professional and public. For some, he is a witty, ingenious writer and performer with a gift for puncturing egos; for others, he is nasty, derivative, mean-spirited and crass, whose work lacks the narrative coherency of his betters. Wherever you stand on Macfarlane's televisual endeavours, translating from one medium to another is notoriously difficult. It's very tempting to treat any film project as merely an excuse to get in more of the same material, or to allow the jokes to run on for longer than a 20-minute episode would usually permit. Just as was with Ted, so it is with Macfarlane's second film, A Million Ways to Die in the West (hereafter A Million Ways). While not without brief moments of coherence or spark, the film is largely unfunny, unfocussed, and squanders all the best ideas for the cheapest gag on which it can lay its hands. A good way of illustrating the central problem with this film is to be found in Dwarfing USA, a DVD documentary about the ill-fated American version of Red Dwarf. Doug Naylor, who co-created the original series, recalled being in a room of writers from The Simpsons and Cheers, and being berated for wanting to work on character construction rather than coming up with gags. Naylor said to the writers present: "It doesn't matter how many one-liners you think of, it's not going to solve the problem. It's just Bandaid over the cancer." The point of this comparison is that Macfarlane has clearly gone to town thinking of as many throwaway gags with a Western aspect as he can. You can imagine him sitting in a writers' meeting for hours, writing down every funny thing that occurred to him and ticking them off a huge list as he tried to fit them all in. But no matter how many jokes he can produce, or how long he chooses to play these jokes out for, they cannot solve the underlying problems: the story and the characters. The great comedy westerns of old, like Blazing Saddles, soared because their stories and characters worked on their own merits without them having to constantly try and be funny. Underneath all the buffoonery and fart jokes, there was a believable relationship between Cleavon Little and Gene Wilder, who were part of a story with genuine tension, stakes and even pathos. Mel Brooks understood that comedy is often borne out of human misery, and used even its silliest moments to poke fun at Western stereotypes. In A Million Ways, Macfarlane has set his sights far lower than Brooks did even at his low point in the 1990s. While both filmmakers brought modern dialogue to an historic setting, Macfarlane doesn't do anything constructive with this conceit. Like a lot of American comedians, Macfarlane treats the film as an excuse to play a version of himself in which his ability to wisecrack trumps all other ideas or plot considerations. He's playing at being a cowboy, making up the plot as he sees fit, rather than creating believable cowboy characters who just happen to talk like 1970s Jewish comedians. The central idea of A Million Ways isn't exactly a bad one. Many modern westerns go for a gritty and earthy approach, eschewing the nostalgia of John Ford and John Wayne, but very few dramatic westerns dwell on the fine points of sudden, horrible death by anything other than a gun. There is definitely potential in making a film about the Wild West as a place where people can die suddenly without good reason or means of moral justification - a sort of 19th-century Leviathan, but with jokes. Even if Macfarlane's ambitions didn't extend to a full-on reworking of Thomas Hobbes, he could have taken this central idea further. He could have used Charlize Theron's character to directly challenge the gender stereotypying of westerns; there hasn't been a cowboy film with a viable female lead for many years. Equally, he could have taken Liam Neeson's ruthless, lugubrious villain and subverted the concept, making him a complete coward or someone who is misunderstood. He could have done any number of things - but as usual he settles for the cheap gag and the fast buck over anything involving either thought or genuine creativity. Most of the biggest gags in A Million Ways - in other words, the ones that made the trailer - are lowest common denominator fare designed to get a quick shock and a shameful laugh. There's nothing inherently wrong with jokes about poo, vomiting, farting or sexual intercourse, but you have to package them in a certain way to stop the comedy becoming about shock value for shock value's sake. John Waters knew this, Mel Brooks knew this, even the Farrelly Brothers knew this - but clearly it's something that Macfarlane still has to learn. There is no better example of this than the all-too lengthy scene involving Neil Patrick Harris getting the runs during the gunfight. The initial idea has some comedic promise - someone can't attend a gunfight because he can't stop going to the toilet. In the hands of a director who understood that suggestion is often more effective than being explicit, the joke could have worked reasonably well. But Macfarlane shows us far too much, repeating the same joke over and over without progressing the scene, and then giving us the totally unnecessarily close-up of the hat full of faeces. He deconstructs his own joke while he's telling it, insulting our intelligence and bringing the pace of the scene to a grinding halt. The same goes for the so-called climax, where Albert outwits Clinch in the final duel. Had Macfarlane put in the hard yards, showing the growing ingenuity and self-respect of Albert, this development would have made much more sense and felt cathartic. As it is, it looks and feels for all the world like the writer plucked the resolution out of his arsw, shoehorned the plot around it and then explained it to death, killing the joke in the process. Tom Baker got away with this in some of the weaker episodes of Doctor Who because he was charismatic and appealing enough to make us believe that the Doctor was really that clever. But Albert isn't clever: he's as stupid as his creator believes his audience to be. In hindsight, it was a very bad idea to allow Macfarlane to direct, produce, write and star in this film. Whether because his energies are too thinly spread or because he has no real talent at all, he comes up short in every aspect. His central performance is flat and weak, with no real character development and a cocky, chauvinistic quality which makes him unappealing. His writing is mediocre, always low-balling it when a person in his position should be taking risks. His direction is to westerns what Chris Columbus was to Harry Potter, with the camera remaining so static that we can tell when a joke is being set up just by looking at a given shot for more than a second. And by producing it, alongside good friends Scott Stuber and Jason Clark, there is no-one to rein him in when he starts being narratively flatulent as well as comedically so. If we disregard the jokes for the moment - difficult as that may be - we find ourselves coming back to the issue with the characters. The central dynamic is simply a lazy and boring regurgitation of the Judd Apatow formula - namely a romance in which a schlubby, incompetent, shallow and cretinous guy ends up with the beautiful, smart, resourceful woman for no good reason. Taken abstractly, there is no way in hell that Anna would end up with Albert, and shaping him as the lesser of two evils over Clinch is not only stupid, it's downright misogynistic. In spite of all this, it would be wrong to describe A Million Ways as an abject failure. There are so many gags being thrown at you that some are bound to stick in a disposable way, and for newcomers to the comedy western sub-genre, there are worse places in which one could start (Wagons East, for example). It is equally possible to enjoy it for the supporting cast, who work overtime to do their best in spite of the material. While Neeson is largely boring, pitching it somewhere between Taken and Seraphim Falls, Theron is a lot more appealing and almost manages to make her role convincing in its own right. A Million Ways to Die in the West is a disappointingly scattershot affair which will entertain Macfarlane fans but leave the rest of us with half-remembered frustration. Its central premise and its cast both have undoubted potential, but every good idea it has is quickly ground down into third-rate physical or scatalogical jokes which are poorly directed, have no staying power, and are offensive for all the wrong reasons. Macfarlane can do so much better as both an actor and a writer, but the biggest compliment you can pay this film is that it makes you want to rewatch Blazing Saddles, to see how it really should be done.
Daniel Mumby
Super Reviewer
So this would be Seth MacFarlane's own comedy western version (or should I say attempt) of 'Blazing Saddles' or 'City Slickers' with his trademark Family Guy tomfoolery all in an uneasy marriage. The movies title does sound intriguing that's for sure, hell its actually a great title...but it could also be summed up quite easily in a 30 minute TV episode or maybe even a comedy sketch. This really is a one trick pony I'm afraid. The plot isn't worth discussing as it simply involves MacFarlane playing the useless underdog against a rough tough cowboy and his band of merry men. In the middle is the blonde damsel in distress played by Theron who naturally falls for MacFarlane as things proceed and we make our way to the inevitably predictable stand off at high noon. Its the basic western theme with the basic western setups and scenarios along side the reasonably amusing notion of how easy it was to get killed in the wild west...briefly touched upon in places. The film just felt like a spin off from Family Guy, almost like a live action version with 'Brian'. As MacFarlane provides the voice of Brian in his animated show it just feels like you're watching Brian in the wild west. The comedy plays out exactly as it does in Family Guy, you get the plot interspersed with the odd joke or visual gag that may or may not have anything to do with the plot. For instance right in the middle of the movie MacFarlane's characters stumbles across a barn and finds 'Doc Brown' working on his Delorean. Now I will admit its a nice little visual moment and both Christopher Lloyd and the car looked great...but its completely off the wall and had nothing to do with the actual movie!...just like MacFarlane's animated show. I really must stop comparing this movie to that animated show but you understand its very hard. The humour is of course as you would expect with lots of toilet gags and slapstick, lots fart and poo gags, much sexual references, sexism, racism, black humour, offensive bits...and then there's some good old fashioned lunacy and visual jiggery pokery. End of the day its quintessentially MacFarlane, you either love it or hate it which isn't necessarily a bad thing but you just feel like its dated already. There are some things in there that did make me laugh...or at least giggle, some good lines of dialog here and there. Overall most of it misfires, seems childish amateurish or just plain dumb admittedly but there are still some accurate strikes from the comedy bomber. I liked the spiel about old fashioned photo's and folk never smiling, the various ways people could die back in this era, the bad state of medicine at the time and the way Ribisi's prostitute girlfriend casually acts about her career. 'shoot that dirty cowboy cum all over my face!!' One thing the film does have and that's stunning location work. The movie really does look superb at every turn with the eye popping New Mexico backdrops. Some (most) of the acting scenes are outdone by the incredible landscapes we see behind the stars. Its far more interesting to look at the rugged desolate beauty of nature instead of Theron and MacFarlane trying to shoot bottles or MacFarlane trying to chat up Theron. Seriously am I the only one who thought that? is it me or is this guy clearly trying to flirt with Theron in some of these scenes? we all know he wrote himself the best part of course. Oh and what's with all the pointless non-dialog cameos? just because he could get these big names? I get that MacFarlane has tried to make a sort of old fashioned western comedy mixed with his own unique blend of humour here...the classic credit fonts, the obligatory meeting with Indians, the old cliched good guy coming up trumps in the end routine after dealing with moustache twirling enemies (literately) and dirty dark coloured attire wearing bad cowboys etc...I think we all knew it would be a satire and parody of sorts...but I guess everyone just kinda thought it would be funnier or a bit more ingenious than just shit jokes. MacFarlane is clearly not a leading man, I don't think anyone had the balls to tell him this. He ain't got the looks, he ain't got any sort of physique and strangely enough he can't quite pull off visual tomfoolery (neither can Theron, comedy ain't her thing). He does have an excellent voice though and that's his best weapon, we don't need to see you MacFarlane, just hear you. The movie looks outstanding in almost every scene no doubting that, the idea had promise, there are some good bits...but generally this feels like a very scattershot affair. The lighting has not been bottled here, hit and miss, now get off your high horse MacFarlane.
Phil Hubbs
Super Reviewer
A Million Ways to Die in the West Quotes
| | |
| --- | --- |
| Edward: | So should I bring her back around 6? |
| Millie: | We really don't keep a schedule around here. He'll just be in when he feels like putting his penis in an asshole. |
| Edward: | So we'll say 6, then. |
| | |
| --- | --- |
| Anna: | What's with this fair? |
| Albert: | Every year, people die. |
| Anna: | Really? |
| | |
| --- | --- |
| Doctor Harper: | I couldn't save her. |
| Albert: | She had a splinter. What the hell were you supposed to do? |
| | |
| --- | --- |
| Albert: | The American West is a terrible place in time. Everything out here that's not you wants to kill you. Angry drunk people, hungry animals, outlaws... the fucking doctor! |