A Night in the Woods
(2013)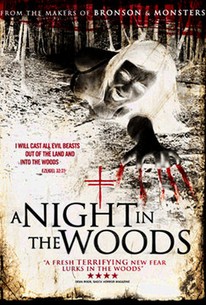 A Night in the Woods Photos
Movie Info
When three friends go hiking, jealousies, sexual tensions and strained relationships come to a head, turning what should have been a peaceful camping adventure into a terror trip. As collective paranoia reaches fever pitch it becomes clear that there is a much darker force at work in their ancient eerie surroundings. Who or what is after them? And can any one of them survive a night in the woods? (c) Tribeca
Critic Reviews for A Night in the Woods
Audience Reviews for A Night in the Woods
"This is the path the horror fan must walk, this the path I have chosen. The path of watching a lot of not very good movies." A Night in the Woods doesn't just hit every cliche in the found footage genre, it does them bad too, like, really bad. Then, get ready to top it all off with: Absolutely no payoff whatsoever! Hurray! God I'm sick of found footage horror.
Yet another 'found footage' faux documentary, this one is so similar to The Blair Witch Project it's practically a remake. A boyfriend and girlfriend decide to go on a camping trip in Dartmoor along with a cousin with an apparent complicated 'history'. The woods they are staying in are purportedly full of ghosts/spirits/whatever (there's some 'vox pops' of people in a pub giving their versions, just like the local in BWP talk about the witch), and you betcha, there's some strange noises in them there woods. The spin with A Night In The Woods is that it appears at least one of the party are already a bit loopy and there's some interest in trying to determine if the strangeness that's happening is to do with things in the woods, things 'possessing' one or more of the three, or whether it's entirely down to human interference, or a combination. The film is well acted and has a couple of decent scares, but there's absolutely nothing new here and the 'found footage' sub-genre really is running out of new tricks. To top it off, the denouement is practically a re-hash of The Blair Witch Project (there's some beats similar to the 'figure standing in a corner looking at the wall' familiar from the closing moments) but doesn't have anything like that superior film's power. Not much worth bothering with then, sadly. I do like Scott McNairy though - he deserves better films.
Daniel Parsons
Super Reviewer
A Night in the Woods Quotes
There are no approved quotes yet for this movie.