A Nightmare on Elm Street 4: The Dream Master
(1988)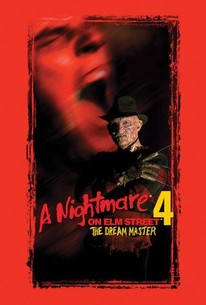 TOMATOMETER
AUDIENCE SCORE
Critic Consensus: A Nightmare on Elm Street 4: The Dream Master marks a relative high point in this franchise's bumpy creative journey, although the original remains far superior.
A Nightmare on Elm Street 4: The Dream Master Photos
Movie Info
This fourth trip down Freddy Lane was the most successful at the box-office, but although it has some impressive visuals, it is mostly an empty film. Credit must go to the effects team for some fine work, but otherwise, this entry from the director of Cutthroat Island (Renny Harlin) is extremely weak. Roland Kincaid falls asleep and awakens in the Springwood junkyard, where his dog -- named "Jason" in a sad foreshadowing of the film's giggly tone -- pees fire on Freddy's grave. The pyro-urinary baptism causes Krueger (Robert Englund) to reassemble from bones outward in an admittedly impressive sequence. Predictably, Freddy guts Kincaid, then appears in Joey's waterbed as a naked pinup girl (Hope-Marie Carlton) before slicing him to ribbons. And so it goes. The film has a few interesting ideas kicking around, but no real identification points. This is a video game, not a movie, and the characters seem to exist only in order to move the film from one effects sequence to another. There is a lot to be said for special effects, and the ones here are extraordinary and vivid. However, the wonderfully grim mood and subtle performances of Chuck Russell's outstanding third entry in the series are gone, abandoned by Harlin in favor of a splashy, comic book approach which would, unfortunately, dominate the series' later installments. ~ Robert Firsching, Rovi
News & Interviews for A Nightmare on Elm Street 4: The Dream Master
Critic Reviews for A Nightmare on Elm Street 4: The Dream Master
Audience Reviews for A Nightmare on Elm Street 4: The Dream Master
½
After being scared to death by Freddy in the first and third movie, I was expecting more sleepless nights with watching this film, but no, not really. He's still uber creepy, but also quite funny. It was a strange mixture of the two, but it's hard for me not to be scared of him, so I guess it's understandable. Mixed feelings on this movie, but I'm glad it wasn't so scary, and I was able to enjoy it.
½
I actually really enjoyed this 4th installment of the Elm street films. Tuesday Knight resumes Patricia Arquette's role of Kristen. Actually, I know I will be in the minority, but I preferred her. No, not a great actress, but her appearance fit well with the silliness here. Comments that this is more video game than movie are fair, but the effects are pretty well done in a cheesy 80's way. This coming from someone who isn't generally impressed by effects. The waterbed scene alone is excellent. And kind of funny.
Nicki Marie
Super Reviewer
An ultra-stylish, guilty-pleasure sequel with a multi-layered character arc for the female protagonist who can tranpose interlopers into her dreams. Alice must mature from a shy, introverted side character to an impregnable warrior who can finally vanquish the culprit responsible for the deaths of her friends (and her wide-eyed naivete). Freddy has succumb to macabre one-liners and MTV-generation swagger (like a demonic James Dean), but, considering the prolific series, he cannot remain a frightening mystery forever.
Cory Taylor
Super Reviewer
A Nightmare on Elm Street 4: The Dream Master Quotes
| | |
| --- | --- |
| Kincaid: | See you in hell. |
| Freddy Krueger: | Tell them Freddy sent you. |
| | |
| --- | --- |
| Freddy Krueger: | No pain, no gain. |
| | |
| --- | --- |
| Kincaid: | See you in Hell! |
| Freddy Krueger: | Tell them Freddy sent you (kills Kincaid) 1, down, 2 to go. |
| Freddy Krueger: | Tell them Freddy sent you [kills Kincaid] 1, down, 2 to go. |
| | |
| --- | --- |
| Freddy Krueger: | Welcome to Wonderland, Alice. |