A Nightmare on Elm Street 5: The Dream Child
(1989)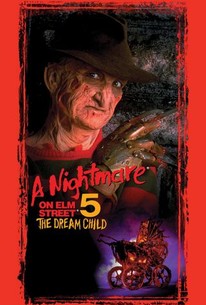 TOMATOMETER
AUDIENCE SCORE
Critic Consensus: A Nightmare on Elm Street feels exhausted by this cheesy fifth entry, bogged down by a convoluted mythology while showing none of the chilling technique that kicked off the franchise.
A Nightmare on Elm Street 5: The Dream Child Photos
Movie Info
In the fifth installment in the Nightmare on Elm Street series, Alice (Lisa Wilcox) begins the film with the notion that she is safe after she vanquished the evil Freddy Krueger (Robert Englund) by learning how to battle the dreamworld psychopath within her own unconscious mind. But somehow Freddy has survived, and Alice discovers that he's found a place where Alice can't protect herself when he taps into the dreams of her unborn child. Freddy is soon leaving a trail of destruction while the child is still in the womb, and he will become even more deadly when the child comes to term. Memorable moments include Freddy's attack on a comic book artist and his Hellish experiences when "the bastard son of a hundred maniacs" is locked in an insane asylum with a nun. A Nightmare on Elm Street 5: The Dream Child was followed by Freddy's Dead: The Final Nightmare, though Mr. Krueger popped up again in Wes Craven's New Nighmare. ~ Mark Deming, Rovi
Critic Reviews for A Nightmare on Elm Street 5: The Dream Child
Audience Reviews for A Nightmare on Elm Street 5: The Dream Child
MisterYoda ?
Super Reviewer
The Dream Child is my least favorite in the whole series. Stephen Hopkins is a horrible director. I was so disappointed with part 5. Good performances, good effects, but bad script and bad story. Freddy's jokes are even funny this time. Everything in this movie is just so backwards, awkward and weird (even the death scenes are way too awkward). It doesn't fit the series too well. Part 5 is like Freddy Krueger's own nightmare when he's on acid. But not all acid trips are good and most nightmares don't make much sense. You put those two together you have a pretty lame perception. Stephen Hopkins should have been banned from this series. Not bloody (just weird), not funny (just weird), not scary (just weird)...but slightly entertaining. Still, that just isn't enough. 2 stars for effects and good performances (only if they had a better script).
jd cryptic
Super Reviewer
Even though every Nightmare film has tried something new in the past, this one really doesn't offer anything much. However this film does have great moments and is still very enjoyable, but compared to Dream Warriors and The Dream Master, this is one of the weaker one, still enjoyable however. But it really doesn't anything new or creative. There's still a lot of originality present in the film with the death and dream sequences, but there's a little something lacking to make this film truly special, and memorable. Freddy seems a bit bored this time around, and so do the characters. Overall Nightmare On Elm Street: The Dream Child is a good little film to watch, but with nothing really new to add to the series.
A Nightmare on Elm Street 5: The Dream Child Quotes
| | |
| --- | --- |
| Freddy Krueger: | We'll see bitch! |
| | |
| --- | --- |
| Freddy Krueger: | Faster than a bastard maniac! More powerful than a loco-madman! It's...Super Freddy! |
| | |
| --- | --- |
| Freddy Krueger: | (as "Super Freddy") - Faster than a bastard maniac! More powerful than a loco-madman! It's...Super Freddy! |
| | |
| --- | --- |
| Freddy Krueger: | Where are you going, piglet? The party's just starting. |
| Alice: | I know exactly what you're up to. |
| Freddy Krueger: | I thought I was up to...Yvonne! |
| Freddy Krueger: | I thought I was up to Yvonne! |