A Painted House
(2003)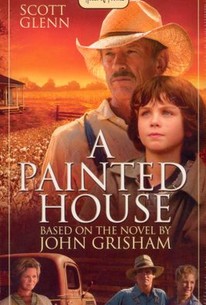 AUDIENCE SCORE
Critic Consensus: No consensus yet.
Movie Info
Based on John Grisham's semi-autobiographical novel (which he regarded as his favorite because it "contains no lawyers"), A Painted House is set in the rural community of Oak Park, AR, in 1952. The story is told through the eyes of ten-year-old Luke Chandler (Logan Lerman), who lives and works on a rundown cotton farm with his parents (Robert Sean Leonard and Arija Bareikis) and grandparents (Scott Glenn and Melinda Dillon). It is Luke's personal mission to earn enough money picking cotton to be able to afford a new coat of paint for the Chandler house. But as harvest time approaches, a number of plot complications distance Luke from his goal, including failed crops, dangerous weather, periodic run-ins with a family of migrant workers, and -- this being a John Grisham story -- a murder to which Luke is the sole eyewitness. Filmed on location in the Arkansas town of Lepanto, A Painted House first aired April 27, 2003, as a CBS Hallmark Hall of Fame presentation.
Critic Reviews for A Painted House
Audience Reviews for A Painted House
½
Nice Hallmark movie. A little slow...
Cynthia S.
Super Reviewer
Perhaps sometimes, we forget, with our plush life and current definition of "poverty", what things were like for rural "working poor" even as recently as the 50's. Survival, even for a man who owned the land, took a different strength of character. Is it good, or is it regretful those times have passed? More money yes, but were better times up North in the auto plants? I suppose, but this is nostalgia, and not bad either. It was a good family movie, narrated like the Waltons, I kept waiting for "goodnight Luke-boy". Yah, Little House on the Prairie too, a bit more reality, but did other commenters really expect this to be as complete as the book, any book? Personally, I'm tired of hearing book-readers whine about "what they left out". Don't watch movies if you read the book. This is certainly wandering reminiscences, but that's another type of literature too, isn't it? Why does every story have to be going somewhere special? To me it's a pretty good coming of age movie and worth the hour and a half at least, and always a pleasure watching Scott Glenn, when he gets good parts.
Cassandra Maples
Super Reviewer
A Painted House Quotes
There are no approved quotes yet for this movie.