A Matter of Time
(1976)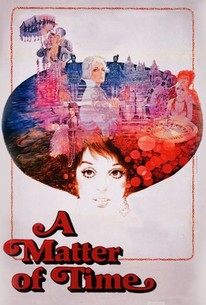 Movie Info
Singer and actress Liza Minnelli teamed up with her father, legendary director Vincente Minnelli, to make this evocative drama. Nina (Liza Minnelli) is a popular film star who, in the midst of a press conference, finds herself remembering her life before her big break, when she worked as a chambermaid at an Italian hotel which had seen better days. In the course of her duties, Nina meets Countessa Sanziani (Ingrid Bergman), an aging and eccentric woman who regales Nina with tales of her glamorous younger days. As the Countessa tells her more stories of her days of wealth and adventure, Nina imagines herself living out the same exciting stories, and soon the Countessa encourages her to find the courage to live out her own dreams. A Matter Of Time also featured another family team-up; Ingrid Bergman's daughter Isabella Rossellini has a small part as a nun attending to the ailing Countessa.
Critic Reviews for A Matter of Time
Audience Reviews for A Matter of Time
½
So much talent behind and in front of the camera to lay such a big egg. The whole thing reeks of decay and that seeps into the tenor of the film. Liza is all over the place and only registers in a positive way twice, in the final hospital scene and most of all during the musical performance of the song Do It Again-really her only powerful moment. Of interest more for its cast of second generation performers than any merit or entertainment value of the actual film. Beside Liza there's a brief appearance of Isabella Rossellini in her screen bow and as Liza's cousin Tina Aumont, who was the daughter of B movie star Maria Montez and Jean-Pierre Aumont. Nonsensical mess was the unfortunate swan song of both Vincente Minnelli and Charles Boyer. Such a missed opportunity.
A Matter of Time Quotes
There are no approved quotes yet for this movie.