A Pure Formality
(1994)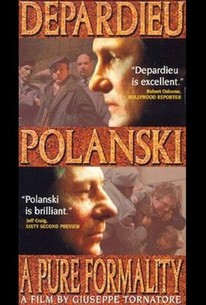 Movie Info
In this eccentric Italian-French comedy, novelist Onoff is found dementedly running through the forest and is picked up by the police for questioning. Having just found a mutilated body in the woods, the cops suspect that Onoff is the killer. Although he claims he is innocent, Onoff is thoroughly interrogated.
Critic Reviews for A Pure Formality
All Critics (5) | Top Critics (1) | Fresh (4) | Rotten (1)
Having made the splendidly entertaining Cinema Paradiso in 1988, Giuseppe Tornatore now exhibits his versatility with A Pure Formality, which is not entertaining at all.

Rivetting.
November 5, 2002 | Rating: 4/5
Convincing psychological thriller that challenges us to consider the thin line between fantasy and reality.
Audience Reviews for A Pure Formality
Many say that the movie is underrated, but if it's so, it's reasonable. Most of the public in general won't be able to figure out wtf the whole movie was about (sometimes, even spoon-feeding becomes inevitable.....and that goes for me too). The movie also leaves you with many questions unanswered, which also, IMO, is not welcomed by general viewer. As for me, I was impressed with the way the movie moved forward, but as soon as I began to get signs of symbolism, I was kinda put off. After that point, I watched the rest of the movie for a pure formality. Besides, the ending of the movie isn't epic either (based on the assumption that I got it right). So there would be an elite group reserved for this 'different' kind of cinema that would be able to appreciate it, but I can't say how many of the rest would.
familiar stranger
Super Reviewer
Well directed & acted & fun to watch but nothing more, The twist doesn't work well & it spoils the film's intensity & seriousness & makes the whole thing a bit ridiculous
A Pure Formality Quotes
There are no approved quotes yet for this movie.