A Quiet Place
(2018)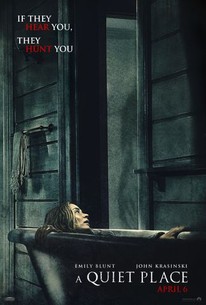 TOMATOMETER
AUDIENCE SCORE
Critic Consensus: A Quiet Place artfully plays on elemental fears with a ruthlessly intelligent creature feature that's as original as it is scary -- and establishes director John Krasinski as a rising talent.
Movie Info
In the modern horror thriller A QUIET PLACE, a family of four must navigate their lives in silence after mysterious creatures that hunt by sound threaten their survival. If they hear you, they hunt you.
News & Interviews for A Quiet Place
Critic Reviews for A Quiet Place
Audience Reviews for A Quiet Place
95% on Rotten Tomatoes? Are you shhhhh . . . We're in a wery, wery quiet pwace wight now. It's a world where you can't cough, can't hiccup, can't even fart for fear you'll be splattered all over the landscape. Woe be unto those who suffer from sleep apnea in this place, for unless you're an electrical whiz and know how to get some juice flowing -- quietly, no generators allowed -- to power a very quiet CPAP machine, your snoring will surely be the literal death of you in this soundless post-apocalyptic hell-hole of a world we now inhabit. You know, thinking about it, no farting anymore would be a good thing. I hate it when someone cuts one loose without warning and you have to hold your breath forever -- just as if these sound-seeking alien killers were nearby and you didn't want them to hear you breathing. Fart in this world, and you are one dead flatulator. No chili for you! Also no screaming if you drive a nail through your foot or give birth, either. No knuckle-cracking or gum-snapping, or stomach growling, or sobbing, or projectile vomiting, or stubbing of toes, or . . . Sneezing? Out. Allergy sufferers will be some of the first to get off-ed. Oh, and while I'm making a list of don'ts and checking it twice, don't ever use a condom when you have sex. Why? Because it isn't irresponsible of you first, to bring a child into a world like this, and second, it's a sure sign of love if you have to stuff the baby in an airtight box with a little oxygen mask so that if it cries the aliens won't hear it and smear it. It goes without saying, of course, that if you do have sex, contraceptives or not, you darn well better not enjoy it to the point where you moan or, heaven forbid, cry out at the height of passion. Heard of the "little death"? That there'll be the big one. About thirty minutes into this horror of a story, I wanted to scream, but I knew there weren't really any aliens like the ones in this movie lurking about, so there was no chance in hades that one would hear me and come wipe my out of my misery.
Lanning : )
Super Reviewer
Krasinski finally justifies his wife's initial faith in him with this tense, gut-churner about aliens who hunt by sound, and the family that's trying to survive w/o making a sound. Everyone gets a chance to shine here, but down to the wire, this is Blunt's movie as a mom-to-be in the midst of childbirth and trying to be quiet about it. Good Stuff all around and worth more than one viewing definitely.
Kevin M. Williams
Super Reviewer
This horror thriller comes with a fantastic, original premise you haven't quite seen like that before. Within that logic it is very consistent with its inner logic and makes great use of the exciting potential coming with it. EspeciALLY THE SECOND HALF OF THE FILM OFFERS ONE BLOODCURDLING SITUATION AFTER ANOTHER: tHE CHARACTERS AND THEIR ACTORS WORK EXCELLENTLY, too. A very refreshing and special take on a genre that seemed to go in circles and finds a lot of fresh wind in recent years.
A Quiet Place Quotes
There are no approved quotes yet for this movie.