A Raisin in the Sun
(2008)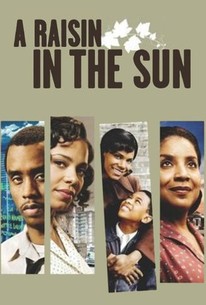 A Raisin in the Sun Photos
Movie Info
Sean Combs, Phylicia Rashad, Audra McDonald, Sanaa Lathan, and John Stamos all return to reprise the roles they originally played on Broadway in this /made for television take on Lorraine Hansbury's timeless play about a 1950s-era Chicago family longing for a better life. Walter Lee has died, and now his widow Lena Younger (Rashad) is about to receive a $10,000 check from her late-husband's insurance company. Everyone in the family dreams about the ways their lives will be changed with the arrival of the money, family matriarch Lena - who longs to retire from her job as a domestic servant for a wealthy white family - in particular. Having lived in a one room tenement apartment ever since she and her late husband originally married, Lena is eager to purchase a house of her own and provide her family with a real home. Lena's son Walter Lee, Jr. (Combs), currently employed as a chauffer, and has recently become taken with the idea of purchasing a liquor store as a means of solving his family's financial woes. Like her mother-in-law, Walter's wife Ruth (McDonald) is also a domestic servant for a white family, and dreams of the day she can walk away from her job. While Walter's sister Beneatha (Lathan) strives to become a medical professional, tuition is expensive and she is currently being pursued by two men - wealthy but superficial George Murchison (Sean Patrick Thomas) and intellectual classmate Joseph Asagai (David Oyelowo). Much to everyone's surprise, Lena uses the lion's share of the money to purchase a home in the all-white residential neighborhood of Cllaybourne, splitting the remainder between Walter (for his entrepreneurial endeavor) and Beneatha (for tuition). Around the same time Walter loses his share of the inheritance to a smooth talking con man who claimed he could help finance the liquor store, the Claybourne "home improvement" association makes the discovery that the Youngers are black and sends emissary Mr. Lindner (John Stamos) to try prevent their neighborhood from becoming integrated by buying the house back. Now faced with the prospect of losing it all, Walter considers making a deal with Mr. Lindner in order to recover his losses.
Critic Reviews for A Raisin in the Sun
Audience Reviews for A Raisin in the Sun
Masterful writing with some truly excellent performances. Really the only downside is the distracting orchestra playing what seemed like continuously in the background. All three women are amazing in their own distinct ways, and Sean Combs, though hardly a marval, holds his own. Interestingly, for me he was more convincing showing his character's flaws than the everday stuff. Phylicia Rashad has a very warm presence and gives a graceful performance. Sanaa Lathan makes what could have been an annoying character in lesser hands and gives her some truth. And Audra McDonald? Loved her. She made me really feel for her trapped, modest, underappreciated housewife. I might make it sound like a heavy-handed contricance, but the film gets by on sheer narrative momentum. A weighty, moving experience about capitalism, racism, family, and integrity in 1950s America.
Joey Nevarez
Super Reviewer
The was a really moving film. Phyllicia Rashad did an amazing performance. This made me want to see the original.
A solid TV movie. I love the stage play. There is a lot for me to identify with in the story though I'm not a racial minority. It was interesting to see the one room stage set expanded upon with some scenes of each character out in the world. Diddy is not bad, but the women steal the show.
Byron Brubaker
Super Reviewer
A Raisin in the Sun Quotes
There are no approved quotes yet for this movie.