A Room for Romeo Brass
(2000)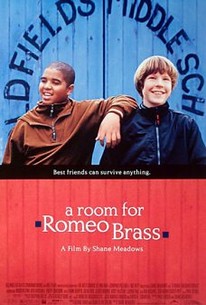 A Room for Romeo Brass Photos
Movie Info
Romeo and Gavin are best friends who live pretty average 12 year-old lives -- until Morrell moves into their Midlands estate neighborhood. When the eccentric Morrell develops a romantic obsession with Romeo's older sister, his friendship with the boys takes on a rather sinister edge.
Critic Reviews for A Room for Romeo Brass
Audience Reviews for A Room for Romeo Brass
From the director of the superb 'This is England'. This is a typical British film that demonstrates what made TiE so good in the first place. The cast features a very young Milky and Lol (cast names in This is England) in completely different roles but still great to watch. if you have never heard of Shayne Meadows as a filmmaker then this would be a great place to start. Not only is this well directed but it has a great cast and even has a part for Bob Hoskins! Well recommended!
Ian Walker
Super Reviewer
Simply amazing. Funny, dark, innocent, violent, bizarre, sweet, surprising, shocking. Indescribable. A tour de force performance debut from Paddy Considine is the highlight of the film. Simply stunning.
Sarah Burton
Super Reviewer
½
Romeo Brass is a schoolboy whose friendships and family are turned upsode down by the arrival of a socially inadequate misfit played by Paddy Considine who insinuates himself into his life. Another gritty real life drama from Shane Meadows typically blends domestic drama, comedy and urban violence in this in turns humorous and disturbing tale of suburban Britain. All the performances are very good and completely believable, filmed in Meadows' usual naturalistic style, and once again Paddy Considine steals the show as the unhinged Morrell who is harmless and hilarious at the outset but terrifying and creepy when he shows his true colours. My one criticism would be that the situation is resolved a little too conveniently, and as a result I was left wanting more, but a damning criticism that certainly is not. Not quite up to the standard of Dead Man's Shoes or This Is England, but a fine film nonetheless.
A Room for Romeo Brass Quotes
There are no approved quotes yet for this movie.