A Royal Scandal
(1945)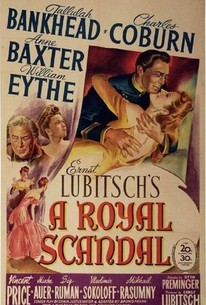 Movie Info
Based on a play by Lajos Biro and Melchior Lengyal, this film dwells upon a fictional incident in the life of Russia's Catherine the Great. Catherine falls in love with a handsome young army officer, who turns out to be an insurrectionist planning her downfall.
Critic Reviews for A Royal Scandal
Audience Reviews for A Royal Scandal
½
Quick on its feet, light to the touch (and perhaps without much of a destination planned), this bon bon is a delightful candy that while certainly not serious is a sure smile from a warm friend. The cast obviously relishes the smart script wherein innuendo and sly asides move the tale along briskly of a young military man who accidentally bumbles into the slight yet hairy intrigues of the court of Catherine the Great. This is one of those films where the fun the cast is having makes you slightly jealous for not being there to actually share in it. Coburn, Baxter, Eythe and Price glide merrily along, but make no doubt about it, this is Bankhead's picture.
Kevin M. Williams
Super Reviewer
Not to bad but sorely lacking "the Lubitsch touch".
Ken Stachnik
Super Reviewer
it's hardly a history lesson and only mildly diverting, retaining a little of the lubitsch charm even under the heavy-handed direction of otto preminger. the main point of interest here is the notorious tallulah bankhead playing catherine the great, in one of only a handful of leading roles in her film career. ms. bankhead was a celebrity before the cult of celebrity, a sensation on the stage, who famously hated making films and only came to hollywood 'to fuck that divine gary cooper.' her presence never quite translated to the screen altho her out-sized personality inspired characters from margo channing to cruella deville. ms bankhead was 42 when she made this film, part of a two picture deal with lifeboat, her most famous screen performance. also starring vincent price in a very small role and anne baxter, who later played eve harrington opposite bette davis doing her best bankhead in all about eve
Stella Dallas
Super Reviewer
A Royal Scandal Quotes
There are no approved quotes yet for this movie.