A Single Girl
(2000)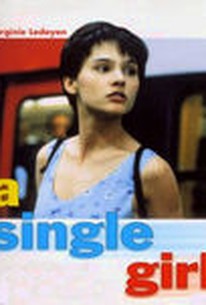 Movie Info
As Valerie, 19-year-old Virginie Ledoyen is not just the titular Single Girl, but for all practical purposes, the entire movie. As the film opens, she meets her sullen, unemployed boyfriend Remi (Benoît Magimel) at a cafe, and reveals that she is pregnant with his child. She is not only unsure about whether she should keep the child, but whether Remi would make a decent father if she did. She is also starting a new job as room service in an expensive hotel and promises to return to the cafe in an hour and tell Remi her decision. The bulk of the film consists of a real-time study of that critical hour. Valerie takes trays from room to room, and the camera follows every stair step, every elevator trip. There are interactions with peculiar guests, but none of them are particularly important characters. The focus is always on Valerie. ~ John Voorhees, Rovi
Critic Reviews for A Single Girl
Audience Reviews for A Single Girl
"La Fille Seule" French film with English subtitles (Oct. 1996 Director: Benoit Jacquot) French movie...i just rented this move from Netflix....EVER HAD ONE OF THOSE DAYS??? Aye yai yai!! Poor, beautiful little Valerie (Virginie Ledoyen) in this story not only has a rugged first day at her new job in a quality hotel as a room service servant (in full tux!) But before staring her new job Valerie tells her boyfriend she is pregnant with his child, Right off the bat, there is trouble! Rude sexually harrassing co-worker first calls her a "little slut" as he comes on to her when she is a patron's room delivering breakfast...then just moments later imposes himself right behind her..and asks her, "Do you like it doggy style?" To which she responds by slapping his face (Go Valerie!!) Touching tale of real woman issues....I enjoyed this film! it is so extreme you could almost see it as a farce..if the subject matter were not so serious! Magnifique!
A Single Girl Quotes
There are no approved quotes yet for this movie.