A Single Shot
(2013)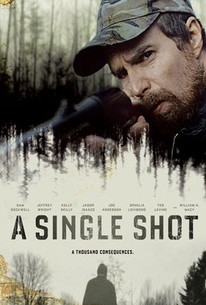 TOMATOMETER
AUDIENCE SCORE
Critic Consensus: It has a bleak sense of atmosphere and a terrific performance by Sam Rockwell, but A Single Shot is undercut by its predictable story and slow pace.
Movie Info
David M. Rosenthal's backwoods thriller starts with a bang: a single shot, aimed at a lone deer, that hits and kills a young woman. The hunter, John Moon (Sam Rockwell, SEVEN PSYCHOPATHS), watches her die before discovering a box of money near her body. In a desperate panic, he takes the cash - hiring a low-rent lawyer (William H. Macy, FARGO) to fight his wife's (Kelly Reilly, FLIGHT) divorce suit - and attempts to cover up the killing. But when he discovers that the money belonged to a group of hardened criminals, the hunter becomes the hunted in this tense cat-and-mouse struggle in the backwoods of West Virginia. (c) Tribeca
Critic Reviews for A Single Shot
Audience Reviews for A Single Shot
One Chance, One Secret, One Mistake. Good FIlm! I love Sam Rockwell. He picks great projects and this no exception. This is not a fast paced feature but I story I really enjoyed. Maintained a great tension and foreboding throughout which I really enjoy in a film. This is a simple story with some great twists and turns. Starts out slow like a slow burn and then ramps up quickly. This story is believable and has no real holes in it. It's a story you can relate to in that it seems very plausible and believable. You feel the characters fear and tension with the situation he finds himself in. This is a slow paced thriller that is well filmed and the performances are excellent. The tragic death of a beautiful young girl starts a tense and atmospheric game of cat and mouse between hunter John Moon and the hardened backwater criminals out for his blood.
½
A Single Shot draws influences from No Country for Old Men, A Simple Plan, and Winter's Bone, but is vastly inferior to all three of those films. The cast, which includes Sam Rockwell, Kelly Reilly, Jason Isaacs, Jeffrey Wright, William H Macy, and Joe Anderson does their best to elevate the material. But alas, the stolen money plot is too predictable to be suspenseful, the character study of John Moon a little too cliche to be sympathetic, and the pacing too slow to be engaging. The film successfully manages to create a dark, eerie backwoods setting. Almost every shot screams atmosphere. This certainly helps to maintain a consistent mood. Yet where the film focuses on its mood, it loses focus in its narrative. There are several tangents that serve little to no purpose in the plot. 15 minutes could have easily been left in the editing room and the story would have been more effective and tightly composed. If you're a fan of Sam Rockwell or dark psychological thrillers, there might be some redeeming qualities here, but A Single Shot will not linger in your mind once its over.
Edward Boxler
Super Reviewer
While hunting one day, John Moon(Sam Rockwell) accidentally shoots a young woman instead of the deer he thought he was aiming at. Amongst her belongings, he finds a very large amount of cash. Some of which he uses to employ Daggard Pitt(William H, Macy), a lawyer, to at least try to put a halt on the divorce proceedings his wife Moira(Kelly Reilly) is attempting to put through, desperately wanting to reunite his family. Considering her poor choice of babysitters, he may have a point. Most people would never think of West Virginia, where this movie could be set, as any place they may want to move to, as most of the characters in "A Single Shot" suffer under the weight of economic hardships and a grey environment, with Moon not being able to hold down a job.(Even Kelly Reilly looks weatherbeaten.) But one thing that thrives there is character turns with quite a few here from a good cast that also includes Jason Isaacs, Jeffrey Wright and Ted Levine.(Levine to his credit is pretty much unintelligible.) What the movie lacks is any kind of perspective on its lead character. It is important to remember that whereas Moon may think he is invariably doing the right thing(except for the part about not dropping the dime anonymously on the woman he shot), the problem is the movie is consistently on his side whereas the truth is always a bit more complicated.
A Single Shot Quotes
There are no approved quotes yet for this movie.