A Street Cat Named Bob
(2016)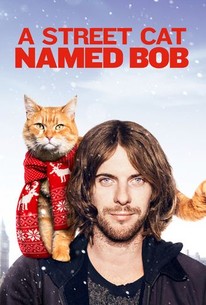 TOMATOMETER
AUDIENCE SCORE
Critic Consensus: A Street Cat Named Bob uses a fact-based feelgood tale as the inspiration for an unapologetically heartwarming movie that should move all but the most cynical of viewers.
A Street Cat Named Bob Videos
A Street Cat Named Bob Photos
Movie Info
This film tells the moving and life-affirming true story of the unlikely friendship between a young homeless busker, James Bowen, and the stray ginger cat named Bob who changed his life.
News & Interviews for A Street Cat Named Bob
Critic Reviews for A Street Cat Named Bob
Audience Reviews for A Street Cat Named Bob
½
The real story of the homeless drug user who found purpose in life thanks to a stray cat befriending him is quite the feel good movie. It does not sugar cote the drug aspects of James' story, but overall the tone is rather light. Of course, Bob's the shows real star and it's pretty amazing that they got the actual cat to play himself. Especially cat owners will find a lot of themselves and their pets in this, even if they never were drug users or street musicians. Very sweet.
I've NEVER understood how people can hate animals. This isn't people who have, legit, phobias regarding animals. That I can understand, you're physically afraid of something, so I don't hold it against people who have a fear of any sort of animal. What I don't understand is people who actively hate animals. My mother doesn't like having animals near her, but she respects them and it's clear that she cares about them, as she has shown us in the past. She's a compassionate human being who feels empathy for living creatures. What I mean is people who just refer to animals as worthless beasts or go out of their way to harm them. Those are just people I don't want to meet. I am one of those people that believe animals make life a more exciting and joyful experience. They offer companionship, friendship and unconditional love if you make a special connection. The first that I aspired to be, when I was a child, was to be a veterinarian. That's how much I loved animals growing up. It's obviously something that didn't pan out, but it's something that I still think about. Of the 29 years that I've been alive, I've had animals for 27 of them. I've had 3 dogs, 2 rabbits and one cat (my current pet). There are also several number of strays that come to my house and I leave food out for them. One of my dreams is to have a big ass farm where I can just have all the animals I want, so they can all roam free and shit. But I digress, let's move on to this flick. This movie has one of those stories about how having an animal, someone to care for and to look after, can have transformative effect on someone that a good number of people had written off for his addictions. For those of you looking at this movie and thinking 'Hmm, I'd like to watch this, but I don't want another Marley and Me and this is what this film screams at me', well, and this is a spoiler, let me dissuade those fears, my dear friends. While the films has some dramatic elements involving Bob, the cat (duh!), the drama is drawn more from James' own issues with his drug addiction and his methadone treatments, meeting a woman who has a dark past with junkies and his own father (and his new family) feeling ashamed of him due to his issues. Again, there are some dramatic moments with Bob and all that, but they never tease that the cat is gonna die. This is an uplifting movie, in all respects. A crowd-pleaser if you will and there is nothing wrong with that. As far as what I thought about the movie, I would say that this was a good movie. I do think that the narrative itself might be considered predictable. And I would certainly agree with that assessment. But sometimes some people, myself included, use predictability in a negative connotation. Though I've always tried and made the distinction that predictability in a film that I find good doesn't bother me as much as it bothers me in a shit movie. Predictability in a film might keep it from reaching greatness, but if I enjoy it then it doesn't really matter to me one way or another. And that's how I feel about this. Yes, it's predictable and it hits all the notes one would expect, but that doesn't keep this from being a well-told story with likable and relatable characters. Not saying everyone can relate to James' story of overcoming addictions, but we are all flawed and we're all trying to make better lives for ourselves. That's what James' story is about. He finds the inspiration, in Bob, to go out there and make a better life for himself. This is all very corny and cheesy, but I do believe it works in execution. Perhaps one of the things that I liked about the movie is how it doesn't try to manipulate you. I mean not saying that there aren't some emotional moments, particularly near the climax once James has his book deal, but I don't think it ever tries to exploit those emotions. In many ways, I think one of the bigger complaints (and I'm just assuming since I don't actually read many reviews prior to doing my own) is the fact that the movie relied too much on the cat's cuteness. I won't shy away from the fact that, yes, they do rely on the cat's cuteness. But I never found it overbearing, this isn't an extended version of a cat video. There's also the fact that there's an actual story here of defeating your demons and coming out the better person for it. If people focus on the cat too much then they'll probably miss out on some of the better bits in the movie. The acting is more than good. Luke Treadaway gives a sympathetic performance in the lead role and he's a good singer. He reminds me, at least singing, of Eddie Vedder and, since I'm a fan of the guy and Pearl Jam, made him more than A-OK in my book. The supporting cast is strong, but the real nucleus of the film ends up being Luke, Bob and Ruta Gedmintas (who plays James' friend Betty). Those three get the job done. I wouldn't say that I found this movie to be super funny, I don't think it was ever designed to be that, but that didn't bother me so much. The film is well-written and has some strong acting, so it's not a bother that the comedy wasn't as great as one would hope. I don't really know what else to say abut this movie, really. It might be one of those movies that just appeals to animal lovers, but I think it's got some a broader appeal than most animal-related flicks out there. This isn't Dunston Checks In. I know some will hate this, but I enjoyed this more than the rating implies. It isn't great nor does it offer anything that's better than just good, but I think 'good' is more than enough to give this a recommendation. It's not a wholehearted recommendation, but if you want something that will put you in a good mood without requiring too much brainpower, then this is what the doctor ordered.
Jesse Ortega
Super Reviewer
½
It is good to know that the real-life James and his cat Bob found a proper home and future for themselves. Based on their story, this film traces the events that led to them coming to public attention - James' drug addiction and life on the streets of a cold and miserable London, Bob's adoption of James, their friends and foes, James' struggle to get clean and to look after Bob, and some great strokes of luck. The film however struggles with an unlikely combination, Trainspotting meets Disneyland animal hero story. That's a big ask. James looks suitably dishevelled but is a romantic character. The two heroes have to overcome many bittersweet challenges, and James' love interest is a princess-like young woman. On the other hand, the drug and street scenes are gritty: not at all like the smoother trials of a Disney cartoon. The cat is not a virtual human - its performances are naturalistic, with not many special tricks, and the character is more about how an everyday animal helps people. Consider carefully whether to take children along, as this isn't just a cute animal show, the cat theme only goes so far, and you will have to explain the drug scenes. To manage such disparate elements, the film needed to be decisive - sharply focused, written, directed, edited and acted particularly in the main roles. Though the story is charming, the end product is a little bemusing and corny. The heroes' rescue and success are the exceptions that prove the harsh rule of life on the streets.
A Street Cat Named Bob Quotes
There are no approved quotes yet for this movie.