The A-Team
(2010)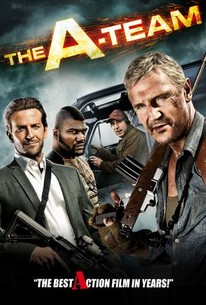 TOMATOMETER
AUDIENCE SCORE
Critic Consensus: The A-Team assembles a top-rate cast only to ditch the show's appealingly silly premise for explosive yet muddled blockbuster filmmaking.
Movie Info
Director Joe Carnahan resurrects the popular 1980s-era action series with this explosive reboot following the adventures of four Iraq War veterans who begin a second career as mercenaries for hire. Col. John "Hannibal" Smith (Liam Neeson), Templeton "Face" Peck (Bradley Cooper), B.A. Baracus (Quinton "Rampage" Jackson), and H.M. "Howlin' Mad" Murdock (Sharlto Copley) are a group of former Special Forces operatives who have been fighting the good fight for eight years when they're sentenced to military prison for a crime they didn't commit. Breaking out with relative ease, they embark on a treacherous quest to clear their names while being hunted across the globe by Charissa Sosa (Jessica Biel), a high-ranking military officer and one of Face's many former lovers. Meanwhile, mysterious CIA operative Lynch (Patrick Wilson) offers tips that help point the federal fugitives in the right direction, which seems to lead straight to former military contractor Pike (Brian Bloom), who may have been responsible for setting them up in the first place. Just when it seems that the A-Team has all the evidence needed to prove their innocence, however, they discover that their latest mission is just getting started. ~ Jason Buchanan, Rovi
Critic Reviews for The A-Team
Audience Reviews for The A-Team
½
Suspension of disbelief is nearly impossible when such a stupid movie insults our intelligence from beginning to end, believing to be much smarter than it is (when in fact it is just brainless) and relying on a lazy plot that couldn't be more obvious and doesn't even make sense.
Carlos Magalhães
Super Reviewer
½
I have to say I expected the worst from this but was pleasantly surprised and pleased by the time the credits rolled. I saw most of the TV series as a young boy and this film does keep a lot true to the original TV series. Just given a modern update and treated like a modern day action film with big stunts and over the top action plans only the A Team could do. At times it felt like a mix of the Bourne Trilogy crossed with Ocean's 11 elaborate missions! There is plenty of humour and it doesn't take itself seriously, pity the critics who just didn't get it, fool's!! A pure popcorn action blast everyone in the right frame of mind should enjoy.
I have never watched a single episode of the A-team, but a movie should be enjoyable regardless of whether a person has watched the show or not. This is one of those films where I enjoyed it overall, but it is a bad movie. The plot feels like three movies in one. The film is a trilogy of origin stories. The action is noisy and over-the-top, but that is the point. The biggest enjoyment factor in this film is seeing the main cast interact with each other. Their are some moments of fun, but as a whole, it is a disjointed mess.
Christopher Heim
Super Reviewer
The A-Team Quotes
| | |
| --- | --- |
| Lt. Templeton "Faceman" Peck: | Sorry to steal your line, sir. But I love it when a plan comes together. |
| | |
| --- | --- |
| "Howling Mad" Murdock: | Hang on everybody, I want to try something I saw in a cartoon once! |
| | |
| --- | --- |
| Col. John "Hannibal" Smith: | Alpha, Mike .. |
| Col. John "Hannibal" Smith: | Alpha, Mike. |
| Lt. Templeton "Faceman" Peck: | FOXTROT! |
| | |
| --- | --- |
| B.A. Baracus: | (AAAAAAAAAAAHHHHHHHHH) you pancaked my van I'm gonna kill you fool. |
| B.A. Baracus: | [AAAAAAAAAAAHHHHHHHHH] you pancaked my van I'm gonna kill you fool. |
| "Howling Mad" Murdock: | you can't park there that's a handicap zone |
| "Howling Mad" Murdock: | You can't park there that's a handicap zone. |