A Town Called Panic (Panique au village)
(2009)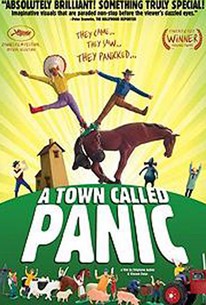 A Town Called Panic (Panique au village) Videos
A Town Called Panic (Panique au village) Photos
Movie Info
This unusual feature (a French-Belgian-Luxembourgian co-production) stylistically recalls the work of Art Clokey (Gumby, Davey and Goliath), with its lead cast consisting entirely of stop motion-animated children's toys. The premise concerns two such toys -- Cowboy (Stéphane Aubier) and Indian (Bruce Ellison) -- who plan to buy a birthday gift for their friend Horse (the voice of Vincent Patar) but accidentally destroy his house. A series of wacky, often hallucinatory adventures ensues that finds the trio journeying to the center of the earth, wandering across icy tundra and discovering a strange aquatic world inhabited by oddball beings with pointed heads. Benoît Poelvoorde (Man Bites Dog) provides one of the voices.
Critic Reviews for A Town Called Panic (Panique au village)
Audience Reviews for A Town Called Panic (Panique au village)
½
Well this is the first French, cartoon, comedy film i've seen and its very good. Its basically a feature length version of the Cravendale adverts, if you like them then you'll love this movie. It is simply the most random movie to watch though, one minute your on land, then in the artic, and then somehow swimming the depths of the ocean, so a very random but highly amusing french animation!
Film Crazy
Super Reviewer
From out of seemingly nowhere comes the bare bones stop-motion animation extravaganza Panic Au Village (The Town Called Panic). I fell in love with this on one viewing. It's like watching a kid play with their toys as the logic of the plot is really based around that. One minute you're in a small village, the next you're in snow and followed by being under water. It's all so magical and fun. Seeing it high definition is really where it's at too. The high quality really brings out the richness of the animation and the world. It's just an all-around terrific little film. Funny, charming and just flat-out maniacally adorable.
Tim Salmons
Super Reviewer
½
Stop-motion animation still has a place in film today despite the computer generated brilliance of Pixar and Dreamwork etc. "Wallace and Gromit" are still a success and with the arrival of this inventive adventure, it shows that there's still some mileage left in the old stop-motion style yet. Papier mache toys Cowboy and Indian's plan to surprise Horse with a homemade birthday gift backfires when they accidently destroy his house. No sooner have they built a new home only for it to be stolen from beneath their noses by a stealthy and cunning assailant. Strange adventures ensue as the trio travel to the centre of the earth, trek across frozen tundra and discover a parrallel underwater universe where dishonest subaquatic creatures live. As long as there's still imagination and creativity in the world, there will still be works of art produced regardless of being at a disadvantage. This little animation is proof that millions of money isn't necessary to produce something that works. Stop-motion animation is probably the most difficult and painstaking of techniques, making you wonder why they even bother in the first place. Fortunately they do bother and we are treated to this fantastic little gem. It's basic in it's setup and characters, with second rate little toys brought to life, injected with hilarity, detail and crammed full of creativity and imagination that it's hard to resist. An absolutely wonderful little treat and very unlike most animation today. Yes, "Wallace and Gromit" are famous stop-motion characters but they are still miles from this surreal Belgian adventure from Stephane Aubier and Vincent Patar. It's a pure joy that will shamefully be overlooked by many and deserves a wider audience for it's originality alone. Added to which, it unashamedly boasts..."shown in glorious 2D." Superb!
Mark Walker
Super Reviewer
A Town Called Panic (Panique au village) Quotes