A Very Long Engagement
(2004)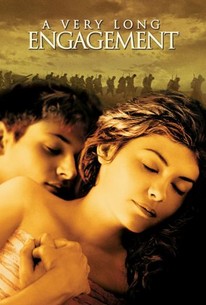 A Very Long Engagement Photos
Movie Info
Audrey Tautou, who rose to international stardom with the title role in Jean-Pierre Jeunet's worldwide smash Amà (C)lie, reunites with the director for this drama, set during the darkest days of World War I and its immediate aftermath. Mathilde (Tautou) is a pretty but frail young women who was left with a bad leg after a childhood bout with polio. Mathilde lives in a small French village with her Aunt Bà (C)nà (C)dicte (Chantal Neuwirth) and Uncle Sylvain (Dominique Pinon), and is engaged to marry Manech (Gaspard Ulliel), the son of a lighthouse keeper who is fighting with the army near the German front. Manech is one of five soldiers who have been accused of injuring themselves in order to be sent home; in order to discourage similar behavior among their comrades, Manech and the other soldiers are sentenced to death, and the condemned men are marched into the no man's land between the French and German lines, where they are certain to be killed. Mathilde receives word of Manech's death, but in her heart she believes that if the man she loved had been killed, she would know it and feel it. Convinced he's still alive somewhere, Mathilde hires a private detective (Ticky Holgado) shortly after the end of the war, and together they set out to find the missing Manech. Jodie Foster appears in a supporting role as a Polish expatriate living in France. ~ Mark Deming, Rovi
News & Interviews for A Very Long Engagement
Critic Reviews for A Very Long Engagement
Audience Reviews for A Very Long Engagement
A young woman refuses to believe that her fiancee was killed in action in WWI and sets about finding out what happened to him and his comrades in their final days. The one thing you can count on from Jeunet is that you will be treated to a beautiful looking film and once again he does not disappoint. A Very Long Engagement is a visual feast with a score to match and complete with his usual ensemble cast of nicely played, likable eccentrics, this is a very difficult film to dislike. Although it does have its flaws. They mainly lie in the way that the romantic elements to the story and those concerning combat don't quite gel; I couldn't help thinking that I was actually watching two films spliced together. The investigation is also a little haphazard and unstructured and it just seemed that facts kept randomly coming to light without much in the way of narrative flow. Having said all that, it does have moments of genius and certain scenes are captivating. Audrey Tautou puts in another fine performance but Marion Cotillard virtually steals the film out from under her as a vengeful prostitute and I wish I'd seen a lot more of her character. As a whole it doesn't quite fit together and as a result lacks the emotional resonance it could have had, but the good far, far outweighs the bad.
An engaging and emotional film, which sweeps you into the world of its characters, and has striking cinematography. In fact the visuals are the best thing about the film. It's a visual powerhouse of a film, mixing gritty visual conventions of the war genre with scenes of a more romantic visual style, both are done brilliantly. The Story and Characters are both interesting, and injected with a healthy amount of wit and humour. The writer has managed to perfectly blend various genres, devoting enough viewing time to each. The acting is a mixture of some performance which are almost cartoonishly ridiculous, and some which create deep 3D characters. This film is a brilliant blend of sad realism and enchanting fantasy. It creates its own world and characters, while at the same time reflecting ours. A bittersweet ending just adds to this theme. Is it worth watching? Yes it is. You're guaranteed an adventure of mixed emotions, and the challenge that the main character faces will keep you engaged and stop you from getting bored.
Joel Kelly
Super Reviewer
Indeed a very long and tedious engagement. In fact, it didn't engage me, but on the contrary, it began to bore me after a while. Simply not my cup of tea. Recommended for public in general, though.
familiar stranger
Super Reviewer
A Very Long Engagement Quotes