A Walk In The Woods
(2015)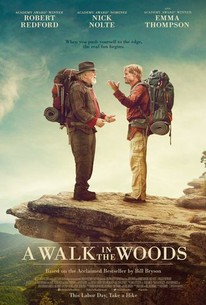 TOMATOMETER
AUDIENCE SCORE
Critic Consensus: Amiable yet less compelling than any road trip movie starring Robert Redford and Nick Nolte should be, A Walk in the Woods is ultimately a bit too pedestrian.
A Walk In The Woods Videos
A Walk In The Woods Photos
Movie Info
In this new comedy adventure, celebrated travel writer, Bill Bryson (Academy Award winner Robert Redford), instead of retiring to enjoy his loving and beautiful wife (Academy Award winner Emma Thompson), and large and happy family, challenges himself to hike the Appalachian Trail - 2,200 miles of America's most unspoiled, spectacular and rugged countryside from Georgia to Maine. The peace and tranquility he hopes to find, though, is anything but, once he agrees to being accompanied by the only person he can find willing to join him on the trek - his long lost and former friend Katz (Academy Award nominee Nick Nolte), a down-on-his-luck serial philanderer who, after a lifetime of relying on his charm and wits to keep one step ahead of the law - sees the trip as a way to sneak out of paying some debts and sneak into one last adventure before its too late. The trouble is, the two have a completely different definition of the word, "adventure". Now they're about to find out that when you push yourself to the edge, the real fun begins. (C) Broad Green
News & Interviews for A Walk In The Woods
Critic Reviews for A Walk In The Woods
Audience Reviews for A Walk In The Woods
½
The film is not the grand daddy of hiking movies or the grand slam it should have been, but it is funny and worth watching. Redford and Nolte are hilarious together and are the highlight of a very simple story. Nolte steals the film with the grumpy old man Katz, who has all the funny moments and helps this film from growing into melodramatic. Redford is always watchable and here he gives a suttle performance that never gets in the way of the chemistry of the two central characters. The film fails when it forces the comedy moments, like the annoying hitchhiker or the red car riding around looking for Katz. The filmmakers only needed to have the camera sitting on the two leads The filmmaker might not have been the most inspired choice but this film is good for a night in or a long flight. 19/10/2018.
Brendan O'Connor
Super Reviewer
The story of author Bill Bryson's hike along the appalachian trail does have traces of his humor, which his readers will certainly appreciate. Additionally there is some "dad humor" as well, harmless and flat, but somewhat likable. The film flows rather well, some editing and camera decisions feel a tad random, though. Still, no one should regret taking this trip with fine actors like Redford and Nolte. Just the ending of the hike feels a bit sudden and anticlimatic.
½
Whether you have a film like Ex Machina winning the Oscar for best visual effects over films like Mad Max: Fury Road or The Hurt Locker taking precedence over behemoth's like Avatar for best picture, independent films have always had a way of winning over the hearts of many viewers. While not as widely viewed or praised, A Walk in the Woods is a very likeable indie gem that nobody really talks about. Sure, it received a shocking box office return, raking in almost $30,000,000.00, but the word of mouth never spread. This is a film that would attract an audience over the age of 50, but I myself found it quite enjoyable. A Walk in the Woods may not be deserving of high praise, but it's a harmless tale of reconnecting. Released in 2015, A Walk in the Woods follows Bill Bryson (Robert Redford), an elderly novelist who doesn't have much excitement left in his life. Wanting to hike a trail in his hometown, he seeks companionship as his wife wouldn't let him make the trek otherwise. Stephen Katz (Nick Nolte) is the man who seems up to the task, so the two of them venture out into the wilderness to find themselves. This truly is just a simple tale of reconnecting with old friends and exploring parts of yourself that you wish you had in the past. Sadly, there isn't enough substance here to call it a great film, but Robert Redford and Nick Nolte are so likeable as these characters that this average film becomes quite enjoyable. While watching this film, it's very hard to ignore the low-budget feel, especially if you are into filmmaking as much as I am. Some of the backgrounds are obviously on a sound stage to keep these actors protected and the locations in this film are slim to none. A Walk in the Woods is a very self-aware and contained film, as to what its limits hold. If I'm being completely honest, I found myself picking out the real scenery from the fake scenery, simply due to the fact that the dialogue felt so simple most of the time. Having said that, their dialogue feels extremely fresh at times, due to the commitment of these two very talented actors. This film may seem like a movie that is only full understood by someone over the age of 50, but anyone who enjoys likeable chemistry, a relaxing story, or slice-of-life storytelling, the you may just find yourself enjoying A Walk in the Woods quite a bit. Watching Redford and Nolte banter through the woods for a solid 90 minutes was well worth the watch on its own. This will never be a film that will be remembered as a classic, but it sure beats the old-age jokes from a film like Last Vegas, where actors like Morgan Freeman or Kevin Klein are just present for a good time and a paycheque. As simple as this story is, it's definitely worth a watch and doesn't deserve to be as forgotten as it has become over the past year or so. A Walk in the Woods shouldn't be criticized for its simplicity, which is what some critics have said about it, because a film like this can't really do much more than it does. It promises an enjoyable time through the woods with two old friends who need a little excitement in their old age, and it delivers just that. Nothing more and nothing less. This is a perfectly fine and disposable film for anyone who wants a quick smile on their face when they have nothing else to watch. Well-directed for the most part, very well-acted by these two veterans, and the script is as competent as it should be for this type of film. I didn't find myself jumping up and down and needing to recommend it to everyone, but for how likeable it is, it's sad that it hasn't been seen by many viewers. A Walk in the Woods is an enjoyable little flick.
A Walk In The Woods Quotes
| | |
| --- | --- |
| Bill Bryson: | There's these things called books, it's like television for smart people. |
| | |
| --- | --- |
| Bill Bryson: | John Muir once said "Sometimes a man needs to grab a loaf of bread, throw it in a sack, and jump over the back fence". |
| | |
| --- | --- |
| Bill Bryson: | How would you like to join me for a little stroll? |
| | |
| --- | --- |
| Bill Bryson: | How would you like to join me for a little stroll? |