A Wrinkle in Time
(2018)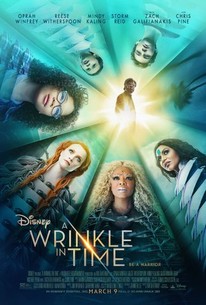 TOMATOMETER
AUDIENCE SCORE
Critic Consensus: A Wrinkle in Time is visually gorgeous, big-hearted, and occasionally quite moving; unfortunately, it's also wildly ambitious to a fault, and often less than the sum of its classic parts.
Movie Info
Meg Murry (Storm Reid) is a typical middle school student struggling with issues of self-worth who is desperate to fit in. As the daughter of two world-renowned physicists, she is intelligent and uniquely gifted, as is Meg's younger brother Charles Wallace (Deric McCabe), but she has yet to realize it for herself. Making matters even worse is the baffling disappearance of Mr. Murry (Chris Pine), which torments Meg and has left her mother (Gugu Mbatha-Raw) heartbroken. Charles Wallace introduces Meg and her fellow classmate Calvin (Levi Miller) to three celestial guides-Mrs. Which (Oprah Winfrey), Mrs. Whatsit (Reese Witherspoon) and Mrs. Who (Mindy Kaling)-who have journeyed to Earth to help search for their father, and together they set off on their formidable quest. Traveling via a wrinkling of time and space known as tessering, they are soon transported to worlds beyond their imagination where they must confront a powerful evil. To make it back home to Earth, Meg must look deep within herself and embrace her flaws to harness the strength necessary to defeat the darkness closing in on them.
Critic Reviews for A Wrinkle in Time
Audience Reviews for A Wrinkle in Time
½
Oh man, if I'd at any point ever had any faith at all in A Wrinkle in Time? I would have been sorely disappointed. Which is a shame on both counts, because it would be great if a film targeted at young people with both complex ideas and multiple women of colour in lead roles could have been like... Good.
½
I feel as though this film is some sort of punishment for not having read the book as a child. Dreadful. Absolutely dreadful.
Christian C
Super Reviewer
A Wrinkle in Time is based on a beloved children's classic published in 1961. It's directed by Ava DuVernay, who was responsible for Selma, one of the best films of 2014. There's a reason that Marvel offered her the directing gig for Black Panther. This film has big names, a big budget, and big talent behind the camera with a focus on upping the inclusion at the Mouse House... so why is the movie so unfortunately awful? A Wrinkle in Time is one of the worst experiences I've had in a theater. I was so thoroughly unattached that I started questioning how something this bad was so beloved for decades by different generations of, what I must now assume, children with terrible taste. Meg (Storm Reid) is a teenager still dealing with the pain and anger from the four-year disappearance of her father, Mr. Murry (Chris Pine). He was a scientist trying to discover a new form of space-time travel powered by... love, I think. Mrs. Murry (Gugu Mbatha-Raw) is stuck trying to rear he troublesome daughter and Meg's adopted little brother, Charles Wallace (Deric McCabe). Then one day they and Meg's crush, Calvin (Levi Miller), are visited by a trio of strange, powerful (aliens? witches? fairies? spirits?) women: Mrs. Which (Oprah Winfrey), Mrs. Who (Mindy Kaling), and Mrs. Whatsit (Reese Witherspoon). They inform Meg and company that they know where her father is. They must travel the universe to save him, battle the source of negativity, The It (no relation to Stephen King), and maybe learn a thing or two about accepting one's true self, faults and all. Oprah as Dragonball Z? A Wrinkle in Time is simultaneously over complicated and meaninglessly shallow. I was baffled throughout the entirely of its near two-hour running time trying to make sense of anything. The story felt like it was written by computer that had been programmed with the scraps of genre storytelling as an exercise. There is no real internal logic that holds everything together, which makes every moment feel arbitrary. The story also lacks another vital aspect every fantasy movie needs - clarity. The goal is for the kids to find and rescue Mr. Murry, but every step leading to this goal feels unclear. Scene-to-scene, moment-to-moment, you don't have any clue how what they are doing will lead them any closer to achieving this goal. Every scene just asserts itself, and then something happens, and then something else happens, and then it's done. Hey one minute the kids are going to talk with flowers because, for whatever reason, they're the little gossips of the plant world. Then Mrs. Whatsit turns into a plant mantis goddess giant. Then the kids hop on her back and fly, and then fly on her while she's also flying, and then one kid falls off, so whoops, but the gossipy plants catch him. And then none of that matters. Even the villain is a nebulous concept of negativity designed to link up with a character's personal journey. There's a plot insofar as stuff happens and then it doesn't. The rules of this universe are never properly established. Anything is just anything in this movie. The final planet, where they do indeed find Mr. Murry, could just have easily been their first stop. If a fantasy movie doesn't properly orient the audience to its world and rules, it's only a matter of time before that same audience checks out, frustrated and uninterested. Afterwards, I did something I hardly ever do and ventured to read the Wikipedia summary to discover what was in the original story by author Madeline L'Engle. Surely the screenwriters must have butchered this oft-touted children's classic. To my surprise, the summary of the book is pretty close to what ends up in DuVernay's film, with some slight modernizing and name changing (I wonder why DuVernay might not have wanted the Big Evil Source of All Negativity to be called "The Black Thing." Hmmm.). I think maybe the book was never good but was liked by kids, and then they remembered it being better and passed it along to their kids, and so on and so on, until somebody finally runs screaming through the streets, trying to get everyone to realize the harsh reality. Another factor that doesn't seem developed or helpful or fulfilling are the three magical beings played by Oprah, Mindy Kaling, and Reese Witherspoon. It feels like they're more award show hosts constantly changing their wardrobes than characters. They offer very Oprah-like self-help platitudes about acceptance, courage, and self-actualization. I felt sympathy for each actress being wasted, in particular Kaling, who speaks only in quotes and a plethora of reaction shots where she practices a wise expression. Witherspoon is definitely overdoing it and Oprah has settled into being talk show Oprah. They felt like rejects from a discarded Alice in Wonderland movie but with less personality. I think you could cut all three out of the film completely. The only meaningful way these three characters impact the plot is as expositional devices, but even that is whimsical nonsense. Speaking of exposition, oh boy is this script really bad when it comes to dialogue. There's an early scene that exists purely to inform the audience about the Murry children and to be eavesdropped upon by Charles Wallace (that name deserves to belong to a tax attorney or a serial killer). "She's smart but hasn't been the same since her dad left," says one teacher. "Yeah, but that little brother of hers, he's got potential but he sure is weird." The conversation feels painfully inauthentic and transparent. Don't these teachers have other students of equal interest at the school to discuss? The Murry children's father disappeared four years ago and they're still talking about them this sloppily? The final film is stuffed with these moments, with characters transparently telling the each other who they are or how they should feel at all times. The pointless romantic sidekick, Calvin, is literally introduced as coming over and saying, "Hey I sorta know you from school, and I felt like I should be here," as if he could feel the screenplay calling him. Also, Meg just happens to live next door to her chief bully in school, who is still bullying her every day for whatever reason. It's been four freaking years since her father left, and apparently this still offends this girl on a daily basis? Most of the dialogue made me wince. It will sound mean but we need to talk about the bad child acting in A Wrinkle in Time. In the modern age, after Room, It, and The Florida Project in particular, there really is no excuse for bad child acting. If you cannot feature quality child actors, you aren't looking hard enough or that may be a fault of the director's own abilities. McCabe (Stephanie) is, in particular, a bad choice to carry much of the movie's emotional climax at the end. He even gets possessed by the Bad Negative Force and must channel menace. It comes across more like a petulant child throwing a temper tantrum in a store. Much of the conclusion hinges on tight close-ups of McCabe bellowing. It's unfortunate for everyone. Reid (12 Years a Slave) fares a little better but is relatively inexpressive, going even beyond the general withdrawn nature of her character. Miller's (Pan) character serves no purpose. He offers no skill or breakthrough for the plot. He is just there, blank-faced, and providing PG-rated prepubescent romantic tension. Or perhaps Meg really needs to hear the strong encouragement from the voice of an attractive white male in order to finally personally succeed? DuVernay's direction has some nice, sweeping visuals but the movie as a whole feels far more awkward and misapplied with its budget. Some of the special effects are shockingly shoddy for this kind of major release from Disney. The fantasy worlds feel like holdovers from other fantasy movies with little memorable distinction. There is one effective moment visually that stands supreme, and that's when the trio encounter a suburban neighborhood populated with Children of the Damned-style kids all bouncing balls in sync. Their individual mothers come out and march in the same eerie synchronicity, and it's the best-conceived and executed piece in the film. It's also one of the few sequences where the editing is a benefit. The editing is conspicuously poor. Early on, when Mrs. Whatsit had first introduced herself, every cut failed to match, every camera movement created a disconnect of space, and it generally felt off. It didn't get better from there. When you notice the editing, unless you're in a Scorsese or Aranofsky movie, it's a bad sign. In many ways, this film reminds me of the misguided, flabbergasting, and fascinating failed passion project that was 2014's A Winter's Tale. I could dissect that movie and its multitudinous of wrong-ness for hours. With A Wrinkle in Time, I just wanted to leave. I wanted to enjoy the movie and root for DuVernay being given the reins of a major studio film. I loved Selma and diversity behind the camera is hard to come by in Hollywood, let alone a woman of color given this sort of platform. Sadly, it feels like DuVernay wasn't quite ready. A Wrinkle in Time gave me nothing to engage with early on. I didn't care about the characters, the plot felt like it was being made up as it went, the rules were unclear, the dialogue was inauthentic, there was no sense of momentum, and when it does accidentally stumble into something slightly interesting, it quickly moves along again. It's about the power of love overcoming the power of negativity. I don't know whom this movie is for. Children will be bored. Adults will shrug. This movie doesn't work on a fundamental level and it left me bored. I closed my eyes and dreamed of a better movie but it never came to be. My dear father, who had the misfortune of enduring this experience with me, turned to me during the end credits and said, "I am now going to treat you... by taking you far away from this movie." It's that bad, folks. Nate's Grade: D
Nate Zoebl
Super Reviewer
A Wrinkle in Time Quotes
There are no approved quotes yet for this movie.