Aachi & Ssipak
(2006)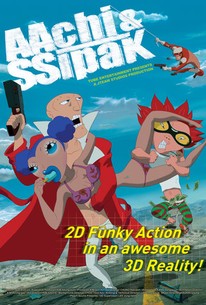 AUDIENCE SCORE
Critic Consensus: No consensus yet.
Movie Info
A futuristic city that is literally fueled by excrement provides the setting for this animated comedy concerning two dangerous delinquents who become inexorably tied to a deadly power struggle within the methane-laden metropolis. Soon after it's discovered just how much power can be generated by fecal waste, the government installs special sensors on citizen's anuses as a means of monitoring the production of the valuable natural resource. Meanwhile, as the public becomes addicted to hallucinogenic and highly-addictive popsicles designed to keep them in line and stimulate even greater bowel movements, street thugs Aachi and Ssipak cross paths with a tough-talking porno star and incur the wrath of a dreaded group of outcasts known as The Diaper Gang. ~ Jason Buchanan, Rovi
Critic Reviews for Aachi & Ssipak
There are no critic reviews yet for Aachi & Ssipak. Keep checking Rotten Tomatoes for updates!
Audience Reviews for Aachi & Ssipak
Funny and fun, but grows tired near the end. It's inevitable that poop jokes will grow tired, but I dug the nods to Temple of Doom (my favourite Indiana Jones flick) and Robocop. Ultimately, the story becomes repetitive though it does stay fast paced and the characters just aren't that interesting though the animation is great. More of a "should see" than a "must see".
Christopher Brown
Super Reviewer
I always thought that if I'd ever seen an animation as wacky as this it would not be from Hollywood. Guess what? It wasn't. This outrageous comedic animation comes from Korea.
The story is completely ridiculous, but it does wonders for this film. The human characters look very kiddish and cartoony and there is a group of characters called the diaper gang that really remind you of smurfs. Don't let that last sentence fool you into thinking this is a goofy cartoon for kids. This is FAR FROM IT. This film has everything a growing adult could ever want. Nudity, major violence, and extreme profanity. Just think of South Park on overload.
As mentioned earlier, the animation of the characters are really cartoony, yet this movie uses a combination of CG with the animation thus making this film visually pleasing. Nicely rendered backgrounds and colorful characters really liven up this film.
The action in here is a plenty and damn intense. This film is filled with blood and killings. I've never seen so much shootings in a single film, and I've seen Shoot 'Em Up. There is a character named Geko and whenever he is on screen his kill count goes up faster than the death of Taye Diggs in Equilibrium. The last twenty minutes of this short 90 minute film is explosive, which includes an awesome rail cart chase. If anybody can re-create this in live action, it would probably be one of my top action scenes.
This movie is not for everybody, but if you want to go for a hell of a ride, check this bad boy out. The theme in the ending credits is damn catchy as well. "Aachi & Ssipak ..."
Aachi & Ssipak Quotes
There are no approved quotes yet for this movie.