Ab-normal Beauty
(2004)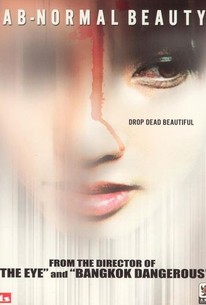 Movie Info
Members of the Hong Kong pop group 2Rs star in director Oxide Pang's Ab-normal Beauty. Race Wong plays Jin, a talented art student whose photographs routinely win her school's prizes. Race's older sister Rosanne Wong plays Jas, Jin's best friend, with whom she shares an extremely intimate relationship. Despite the accolades she receives, Jin is dissatisfied with her work. One day, she witnesses a fatal car accident, and impulsively turns her camera on the dying victim. It's a breakthrough for Jin, and she begins to grow more and more obsessed with photographing death. Jin is being pursued by Anson (Anson Leung of One Night in Mongkok), a fellow student who follows her around with a camcorder. Jin tries to make it clear to Anson that she's not interested, but he continues to dog her. As Jin becomes more and more obsessive about death images, she begins flashing back to a traumatic childhood incident of sexual abuse. Jas helps her to confront her past, but just as it seems she is ready to move on with her life, she receives a portfolio of disturbing photos and a videotape of what appears to be a woman being tortured to death. Ab-normal Beauty had its U.S. Premiere at the 2005 Asian American International Film Festival.
Critic Reviews for Ab-normal Beauty
Audience Reviews for Ab-normal Beauty
½
It didn't completely turn out the way I thought it would. Had this been made in Europe or Hollywood I think they would have gotten more of the subject matter. It's still not a bad movie. Starts off well I thought and ends brutally too, but the middle part was a bit slow. Well acted and stylishly shot, but a missed opportunity.
Man this was boring. This is the first Korean movie that disappointed me (although I'm pretty new at Korean movies). I always thought that Asian movies are supposed to be extremely scary. This does have some scary moments. But it was too slow and almost killed me. The twist at the end was obviously a good one. But that doesn't make this any good.
Dead Angel
Super Reviewer
½
The begining is an interesting view of an artistic obsession spiralling out of control, but I feel the ending was somewhat lacking in punch despite how graphic it was.
Ab-normal Beauty Quotes
There are no approved quotes yet for this movie.