Abandon
(2002)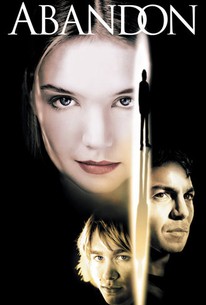 Movie Info
A young woman is faced with the disturbing reemergence of a man she once loved in this psychological thriller. Embry Langan (Charlie Hunnam) was a wealthy but reckless student at an exclusive private college until he mysteriously vanished, with airline tickets to Europe left unused and plenty of money still in the bank. Two years later, Katie Burke (Katie Holmes), Embry's girlfriend, is still dealing with his disappearance as she goes into the home stretch of her college career. With exams, a thesis, and job interviews to think about, Katie is already walking an emotional tightrope when Wade Handler (Benjamin Bratt), a police detective, enters the picture. Handler, a recovering alcoholic, has been ordered to reopen the Langan case, and as he questions Katie about the missing man, she finds her obsession with her former beau taking over her life, which leaves her all the more unnerved when she begins seeing Embry around the campus. Meanwhile, Handler's investigation begins to suggest Langan's disappearance may have been more sinister than imagined, and could be connected with other cases of missing students. Abandon marked the directorial debut for screenwriter Stephen Gaghan, who won an Oscar for his script for Traffic.
Critic Reviews for Abandon
Audience Reviews for Abandon
Really thought I had reviewed this film some time ago. This film didn't do much for me. Maybe it was the acting of Benjamin Bratt, maybe it was the charater he played, just didn't enjoy this film and that is something rare for me. A 2 star and hope never to watch again.
Bruce Bruce
Super Reviewer
Before I start, I know I am in the minority here. In fact, I have been defending this movie for years. After all, "Abandon" came out in 2002 and it's now 2011, and after almost 10 years I still keep coming back to this film, regardless of it's popular dislike. Written and directed by Stephen Gagan (Oscar winning scribe of "Traffic"), "Abandon" is extremely generous to multiple viewings. While the basic story is something we have certainly seen many, actually too many, times before, it's the characters and their psychology that really interest me. I find Katie (a wonderful and complex Katie Holmes) to be a very sympathetic character, regardless of her actions. I find something extremely cathartic in her story. Gagan crafts his morbid tale with a dark and stylish atmosphere rather than going for the easy scares others would have. He also tells his story with a shifting time frame that helps you see the world through Katie's eyes. "Abandon" is about the mind and how memories can grab hold, sometimes all too literally. "Abandon" is nothing new exactly, but for me, I really enjoy it. I think it's an involving, moody mystery with a very interesting central character. But then again, I am alone on this one, so go figure.
Steven Carrier
Super Reviewer
½
Saw the ending come from a mile away. Zooey was the only highlight of this movie.
Leigh Ryan
Super Reviewer
Abandon Quotes
There are no approved quotes yet for this movie.