Abandoned
(2010)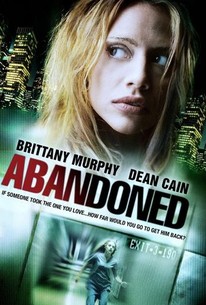 AUDIENCE SCORE
Critic Consensus: No consensus yet.
Movie Info
A woman brings her boyfriend to the hospital for outpatient surgery, and fights for answers after he seemingly vanishes into thin air. When Mary (Brittany Murphy) dropped Kevin (Dean Cain) off at the hospital, doctors told her that he'd be ready for discharge in just a few short hours. Later, she returns to pick him up, only to be told that no patient with that name was ever registered at the hospital. Frantic, Mary turns to the police, who merely patronize her after discovering that she has a history of mental illness. As Mary's search intensifies, she discovers that Kevin's disappearance may be part of an elaborate cover-up involving the hospital staff, and that her "missing" boyfriend may have been in on the ruse all along.
Critic Reviews for Abandoned
All Critics (2) | Fresh (2) | Rotten (0) | DVD (3)
This is a film of small stature, and while it goes down some obvious paths, it's not a chore to watch.
This final requiem for Brittany Murphy effectively lurches between suspicions against a sinister medical establishment - not at all difficult to muster, given their current track record in the real world - and hunches that she may be truly bonkers.
Audience Reviews for Abandoned
½
I liked Brittany Murphy that's why I watched this even though it is an underrated movie.
Dead Angel
Super Reviewer
I enjoyed this one. Especially the first 45 minutes, then it got a little too strange. Now knowing that it was Brittany Murphany's last movie, I thought it was a pretty successful last film. There were some goods twists in here, too!
Jacob Palacio
Super Reviewer
Designed to be a "made for TV (Lifetime) type of drama"... the late Brittany Murphy pulls out all stops to find out what happened to her boyfriend that she has dropped off at a hospital, for knee surgery. During her search she accidentally bumps into a police detective that has just left there after having a physical examination done. Despite the twists and turns of how the story unfolds...the hospital administration almost has he committed into the mental ward...all because they don't want to (and can't) find proof that he was actually there!!! Truly enjoyable...even thought it was a budget made for tv type of film.
Fascade Fiveoneeight
Super Reviewer
Abandoned Quotes
There are no approved quotes yet for this movie.