Abbott and Costello Meet Frankenstein
(1948)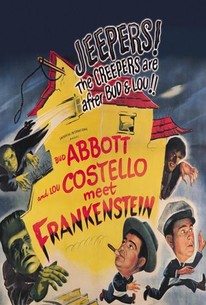 Abbott and Costello Meet Frankenstein Videos
Movie Info
It seems that Count Dracula (Bela Lugosi), in league with a beautiful but diabolical lady scientist (Lenore Aubert), needs a "simple, pliable" brain with which to reactivate Frankenstein's creature (Glenn Strange). The "ideal" brain belongs to the hapless Lou Costello, whom the lady doctor woos to gain his confidence and lure him to the operating table. Lawrence Talbot (Lon Chaney Jr.), better known as the Wolf Man, arrives on the scene to warn Costello and his pal Bud Abbott of Dracula's nefarious schemes. Throughout the film, the timorous Costello witnesses the nocturnal rituals of Dracula and the Monster, but can't convince the ever-doubting Abbott--until the wild climax in Dracula's castle, where the comedians are pursued by all three of the film's monstrosities. As a bonus, the Invisible Man (voiced by an unbilled Vincent Price) shows up for "all the excitement." ~ Hal Erickson, Rovi
Critic Reviews for Abbott and Costello Meet Frankenstein
Audience Reviews for Abbott and Costello Meet Frankenstein
½
By 1948, the Universal monsters were on their way out of fashion. Dracula, Frankenstein, the Wolf Man, all had been popular for many years, but other trends (such as UFO invaders) were coming to the fore by the late forties. Abbott and Costello on the other hand, were just coming into their peak, and with "Abbott and Costello Meet Frankenstein" they took their career on a whole other path (this was the first of several "Abbott and Costello Meet..." pictures). Anyhow, Abbott and Costello play a pair of bumbling freight handlers who are supposed to deliver Dracula's actual remains and Frankenstein's actual monster to some house of wax museum, but when they get there, Dracula wakes up and steals the monster for some nefarious scheme. Dracula and his scientist partners decide to replace the monster's brain with Lou Costello's, because this will supposedly make him more docile and easy to control. Meanwhile, the wolf man (Lon Chaney Jr.) learns of Dracula's scheme and soon arrives to try and stop him. There are some goofy gags and some slight scares, and the film strikes a nice balance between comedy and (light) horror. Fun.
Devon Bott
Super Reviewer
½
Dracula: What we need is young blood... and brains...  "Jeepers. The creepers are after Bud and Lou." Abbott and Costello Meet Frankenstein is a silly classic that includes some of the major Universal Studio monsters of the time; including Wolfman, Dracula and Frankenstein. It is not all that funny now, but back in the flurries when it came out; it was probably hilarious. It's still a semi-fun film to watch from time to time. The best thing about the movie is the monsters and the plot isn't horrible either. Dracula plans on bringing Frankenstein back and having him have no will of his own so that Dracula can control him. Abbott and Costello then get involved in the story and silly slapstick ensues. That is what I don't like about it. The comedy just doesn't work anymore. I chuckled a couple of times, but that was about the extent to what the comedy did for me. It's not a bad movie, but I'd rather just watch the old monster movies without Abbott and Costello. It may be a classic, but it definitely isn't a must watch classic.
Melvin White
Super Reviewer
Ken Stachnik
Super Reviewer
Abbott and Costello Meet Frankenstein Quotes
There are no approved quotes yet for this movie.