The Abominable Dr. Phibes
(1971)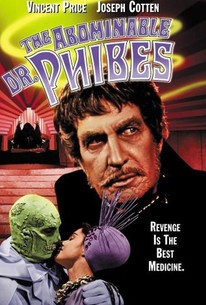 TOMATOMETER
AUDIENCE SCORE
Critic Consensus: The Abominable Dr. Phibes juggles horror and humor, but under the picture's campy façade, there's genuine pathos brought poignantly to life through Price's performance.
The Abominable Dr. Phibes Photos
Movie Info
Long thought dead, the victim of a horrible accident, Dr. Anton Phibes (Vincent Price) still lives, surrounded by art-deco bric-a-brac and attended by mute beauty Vulnavia (Virginia North). Outwardly normal in appearance, Phibes actually wears a rubber mask, covering his hideously deformed countenance; giving away the artifice is the fact that, when he dines, he takes his food through his neck rather than his mouth. Able to speak only when plugging a wire into his damaged vocal chords, Phibes elucidates his plan to murder the medical team whom he holds responsible for the death of his wife. Each of the killings is patterned after the ten deadly plagues. Phibes saves his worst for last: trapping chief surgeon Dr. Vesalius in his lair, Phibes forces the hapless medico into a race against time to save the life of his own son.
Critic Reviews for The Abominable Dr. Phibes
Audience Reviews for The Abominable Dr. Phibes
A wind-up orchestra nicknamed the "Clockwork Wizards", reenactments of biblical curses and a phonograph in order to talk are only the faintly peculiar oddities in this olive-black, droll hybrid of operatic horror and Grand Guignol comedy. Since his face has been corroded away, Price conveys all of his vengeful emotions and homicidal frivolity with his disembodied, alto voice and his expressively mischievous eyes. Phibes' lair is a masterstroke of geisha design with a rich lavender-and-pink color palette. For a film with such an outrageously shlocky premise, the death scenes are underwhelming and tame with the particularly gruesome details held off-screen like the aftermath of a locust attack. An acid-rigged contraption by Phibes is obviously an influence for the elaborate traps for the 'Saw' franchise. The film achieves the requisite spookiness when Phibes is cavorting in his hideout with his mannequin band. To be fair though, the objective is a fiendishly funny and classy hurrah for Price and as a showcase for the erstwhile cult-classic maven, it more than delivers.
Cory Taylor
Super Reviewer
½
The is from the MGM Midnite Movies Double Feature Collection. These movies are always worth getting and make a fine collection. Sheer terror doesn't get much more frightening than this. Scare-master Vincent Price plays a doctor who loses his voice in a car accident, but can still speak by way of an electronic device. He vows revenge on the nine doctors that were responsible for an unsuccessful surgery attempt on his wife, Victoria. He, along with his fiendish but sexy assistant Vulnavia (Virginia North), murder them one by one in such grotesque ways as draining one guy of all his blood, attacking a nurse with a swarm of locusts, and giving an attendee of a costume party a frog mask that becomes so tight around his neck that it snaps his head off. The sheer audacity of these grisly murders, along with Price's meticulous and methodical planning, make for a one-of a-kind scary experience. 4 stars 6-08-13
Bruce Bruce
Super Reviewer
½
The movie plays kind of like a campy version of Seven, except British. And John Doe is played by Vincent Price, whose playing the titular character somewhere between Dr. Evil and The Phantom of the Opera. Totally bonkers and totally worth a watch.
Ken Stachnik
Super Reviewer
The Abominable Dr. Phibes Quotes
There are no approved quotes yet for this movie.