About a Boy
(2002)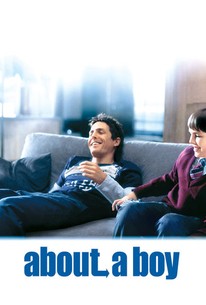 TOMATOMETER
AUDIENCE SCORE
Critic Consensus: About a Boy benefits tremendously from Hugh Grant's layered performance, as well as a funny, moving story that tugs at the heartstrings without tilting into treacle.
Movie Info
Will is a 36-year-old underachiever with a fear of commitment that leads him to seek out relationships with single mothers, on the assumption that they are more desperate. However, plans go awry when he befriends with Marcus, the weird 12-year-old son of his latest target. Soon, Will and Marcus become friends, and as Will teaches Marcus how to be a cool kid, Marcus helps Will finally to grow up.
News & Interviews for About a Boy
Critic Reviews for About a Boy
Audience Reviews for About a Boy
½
Nicey nice British comedy. Not even remotely believable in any way. It has not stood up to a rewatch. I remember initially enjoying this, but over 10 years later, the message is a bit irritating, and so is Toni Collette here. Still, if you don't dig too deep, it is enjoyable enough. Not a must see, but sugary fluff for the background.
Nicki Marie
Super Reviewer
"I am an island. I am bloody Ibiza!" Based on Nick Hornby's best-selling novel, About A Boy is the story of a cynical, immature young man who is taught how to act like a grown-up by a little boy.
REVIEW
I think I smiled all the way through `About a Boy,' a comic near-masterpiece derived from the best-selling novel by Nick Hornby. For the sake of accuracy, both the novel and the film should more rightly be titled `About Two Boys,' since the story focuses not only on 12-year old Marcus, but on 38-year old Will, a man totally dedicated to the proposition that any man who so desires can live quite happily on his own private little urban island, thank you very much. Will's `island' is his own London flat, which he has equipped with all the accoutrements of comfort and diversion that modern technology - in the form of computers, big screen TV's and DVD players - can afford. Who needs people when you have so much `stuff' to keep you content and occupied? Will thrives in his environment, much to the chagrin of his married couple friends who keep insisting that he must certainly be miserable without a wife and family to give his life meaning. `About a Boy' establishes a tone and sticks with it to the end. The screenplay by Peter Hedges, Chris Weitz and Paul Weitz (the latter two function as the film's directors as well) manages to take a potentially clichéd and predictable story and invest it with a warmth, wit and tenderness that are all-enveloping. The voice-over narration by both Will and Marcus, which introduces us to their characters and keeps us informed as to their mental progress throughout the film, is remarkably clever and droll. Yet, the characters never come across as smug, smart-alecky or flippant. Rather, they speak and behave in ways that are both believable and realistic. Hugh Grant gives his richest performance to date as Will, the man who refuses to grow up and assume the role of responsible adult, blithely unaware of the emotional depths that lie hidden under a surface of apathy and indifference. The superb Grant is more than matched by then newcomer Nicholas Hoult, an extraordinarily gifted young actor who doesn't look like the average `adorable' screen kid, and who makes Marcus into a very real, very likable and very sensitive young man. The remainder of the large cast is outstanding as well. Moreover, the film is very astute in its observation about just how easy technology has made it for us to isolate ourselves from one another.
Lorenzo von Matterhorn
Super Reviewer
Jason Spencer
Super Reviewer
About a Boy Quotes
| | |
| --- | --- |
| Will Freeman: | "Once you open your door to one person, anyone can come in." |
| Will Freeman: | Once you open your door to one person, anyone can come in. |
| | |
| --- | --- |
| Marcus: | (to Will before going to sing in show)What are you doing here? |
| Marcus: | [to Will before going to sing in show] What are you doing here? |
| Will Freeman: | Well, I heard you were about to commit social suicide so I thought I'd just drop by, you know |
| | |
| --- | --- |
| Will Freeman: | Every man is an Island. |
| Will Freeman: | Every man is an island. |
| | |
| --- | --- |
| Marcus: | You don't give a shit about anybody, and nobody gives a shit about you. |