About Adam
(2000)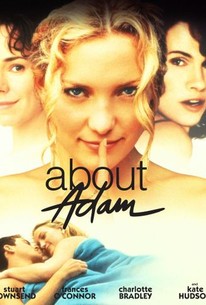 Movie Info
Gerard Stembridge directs this charming comedy about a handsome stranger who wreaks havoc on an entire family. Pub torch singer Lucy Owen (Kate Hudson) falls for Adam (Stuart Townsend) as soon as she lays eyes on him. Tired of a string of failed short-termed relationships, she succumbs to Adam's radiate charisma and agrees to marry him after only knowing him for a scant couple of days. Yet when she brings him home to her family, she finds to her dismay that his magnetism works equally well on her two older sisters. The middle one, Laura (Frances O'Connor), is a shy bookish sort whose love for poetry proves to be her weakness, while eldest sister Alice (Charlotte Bradley) is aloof at first, but eventually she also yields to his wiles. This film was screened at the 2000 Sundance Film Festival.
Critic Reviews for About Adam
Audience Reviews for About Adam
Every once and a while they let Kate Hudson be in a good movie ("Almost Famous," "Dr. T & the Women," "The Skeleton Key," "Nine," "The Killer Inside Me") and "About Adam" is certainly one of them. Unfortunately, Hudson is the very weak link in this terrific cast. Her abominable Irish accent (and subsequent singing in said accent) nearly topple the film in the first 3 minutes, but stick around, because there is plenty of fun to be bad. Stuart Townsend is sexy and sly as a man who charms his way into the private lives of three sisters and their brother. The film may be unscrupulous and naughty, but that's all apart of the whimsy. "About Adam" is a devilish Irish comedy full of deceptive surprises and wit to spare. If you are looking for a first rate romantic comedy with bite and energy, "About Adam" is your ticket.
Steven Carrier
Super Reviewer
This movie was HILARIOUS! Stuart, you ROCK!!
Remi Logan
Super Reviewer
About Adam Quotes
There are no approved quotes yet for this movie.