About Schmidt
(2002)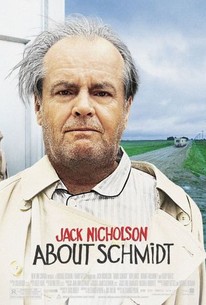 Movie Info
Warren Schmidt is a retired insurance salesman, who at age 66 has no particular plans other than to drive around in the motor home his wife insisted they buy. He's not altogether bitter, but not happy either, as everything his wife does annoys him, and he disapproves of the man his daughter is about to marry. When his wife suddenly dies, he sets out to postpone the imminent marriage of his daughter to a man he doesn't like, while coping with discoveries about his late wife and himself in the process.
Critic Reviews for About Schmidt
Audience Reviews for About Schmidt
Jack Nicholson gives a nuanced performance as a square, one of those guys who defines himself by his job, at the end of the line and suddenly w/o that job. Now what? Agonizing reappraisal. A tender look into the heart of American darkness, ably assisted by a decent supporting cast.
Kevin M. Williams
Super Reviewer
½
Alexander Payne and Jack Nicholson together? Awesome! But seriously though, this is a great movie. It's a moving story, if a bit depressing, but it's told so well, and the performances are absolutely brilliant. Much was made about Kathy Bates' nude scene, but it's handled well, kinda fun (in a good way), and not a big deal. I'm not saying I liked seeing her naked, but c'mon, it actually could have been worse. Thankfully it's not cruel or exploitative. I don't want to watch Payne's films too often, even if they are absolutely fantastic. His mastery of dark humor and uncomfortableness is both good and bad. He does it so well, and makes it all work and watchable, but the problem is, it can be a bit too real, thus difficult to watch very often. That's definitely the case here. It's a little easier to handle Sideways, though. I like this movie a lot. It's funny, finely observed, and just really honest.
Chris Weber
Super Reviewer
Another genuine, intelligent gem in Alexander Payne's short but ingenious filmography. Jack Nicholson turns in one of the best performances of his career in this profoundly realistic film from the master of the tragicomedy.
Tyler Christian
Super Reviewer
About Schmidt Quotes
| | |
| --- | --- |
| Warren Schmidt: | Remember that, young man ,, You've got to appreciate what you have ... while you still have it. |
| Warren Schmidt: | Remember that, young man, you've got to appreciate what you have... while you still have it. |