About Time
(2013)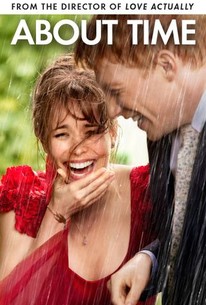 Movie Info
At the age of 21, Tim Lake (Domhnall Gleeson) discovers he can travel in time... The night after another unsatisfactory New Year party, Tim's father (Bill Nighy) tells his son that the men in his family have always had the ability to travel through time. Tim can't change history, but he can change what happens and has happened in his own life-so he decides to make his world a better place...by getting a girlfriend. Sadly, that turns out not to be as easy as you might think. Moving from the Cornwall coast to London to train as a lawyer, Tim finally meets the beautiful but insecure Mary (Rachel McAdams). They fall in love, then an unfortunate time-travel incident means he's never met her at all. So they meet for the first time again-and again-but finally, after a lot of cunning time-traveling, he wins her heart. Tim then uses his power to create the perfect romantic proposal, to save his wedding from the worst best-man speeches, to save his best friend from professional disaster and to get his pregnant wife to the hospital in time for the birth of their daughter, despite a nasty traffic jam outside Abbey Road. But as his unusual life progresses, Tim finds out that his unique gift can't save him from the sorrows and ups and downs that affect all families, everywhere. There are great limits to what time travel can achieve, and it can be dangerous too. About Time is a comedy about love and time travel, which discovers that, in the end, making the most of life may not need time travel at all.(c) Universal
News & Interviews for About Time
Critic Reviews for About Time
Audience Reviews for About Time
½
Working Title pictures are almost their own cliche these days with their fantasy portrayals of upper-middle class British life that seem even further removed from reality now than before. This one even borrowed an idea from Four Weddings & A Funeral with the dress-picking scene. Still, if you forgive the shaky camera work, this one employs a clever plot device to dissect Richard Curtis's philosophical musings on life with another heart-warming feel-good story to add to the collection.
Ross Collins
Super Reviewer
½
The soundtrack is spectacular and the plot so warm and delightful that it makes me want to simply forget the few missteps that pop up here and there along the way - and it is also surprisingly touching for a film that wants so much to sound profound and be a life lesson.
Carlos Magalhães
Super Reviewer
Not your typical romcom, relying on a time travel fantasy element. This film is well acted and charming, with a surprisingly profound message. I thoroughly enjoyed it.
Christian C
Super Reviewer
About Time Quotes
| | |
| --- | --- |
| Tim's Mother: | Its very bad for a girl to be too pretty. It stops her developing a sense of humor, or even a personality. |
| | |
| --- | --- |
| Uncle D.: | My buttplug itches! |
| | |
| --- | --- |
| Tim's Father: | No, I never said we could fix things. I specifically never said that. Life's a mixed bag, no matter who you are. Look at Jesus: he was the son of a God, for God's sake and look how that turned out. |
| | |
| --- | --- |
| Tim's Father: | I'd only give one piece of advice to anyone marrying. We're all quite similar in the end. We all get old and tell the same tales too many times. But try and marry someone kind. And this is a kind man with a good heart. |