Above the Law
(1988)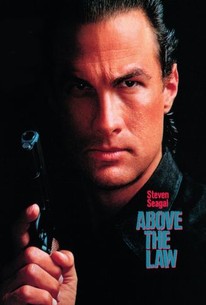 Movie Info
Directed by future Fugitive helmsman Andrew Davis, Above the Law is one of a handful of Steven Seagal films with an appeal extending beyond Seagal's hardcore fans. Making his feature film debut, the star plays a Vietnam vet-turned-Chicago cop (what a parlay!) who uncovers an insidious conspiracy when he plans a major drug bust. The FBI tells him to forget the bust-on direct orders from the CIA. The plot is essentially an excuse for Seagal to smash heads and kick butt at the slightest provocation; still, it is not so much the violence content as the film's depiction of drug users that earned Above the Law an R rating. All this, and Pam Grier and Sharon Stone too!
Critic Reviews for Above the Law
Audience Reviews for Above the Law
sets the stage for what every other seagal film would be for me - entertaining and fun to watch, a guilty pleasure, although the same as every other film he has ever made in most regards. overall, i love this movie.
½
After watching it again, I realised that there was more to this film than a typical Seagal flick. For starters, its his first major hit and it also set the standard for the 90's cop thriller drama. Dont expect this to be an action movie, its a cold hard thriller with Seagal for the first time showing his red hot temper and devestating his opponents as he battles a shadowy CIA group dealing drugs and weapons from South America and into the US. Framed, harrassed and finally marked for assassination, Seagal plays Nico, a diamond hard cop and special ops veteran who crosses the path of his old enemies from Vietnam and the black group who believe themselves to be untouchable. With a good cast and helmed by Andrew Davis (Under Seige and The Fugitive) it is a plot worth thinking about as you dont know how the pieces fit together until the latter part of the movie, so its not a typical dmub story, its got meaning and a moral, which is expressed through Seagal's script and narrative. Very modern and slicker than your average movie, this one is worth watching, dont dismiss it as a cheap Seagal flick, its probably one of his best.
Seagal's first starring role with a very impressive cast led by Blaxploitation-veteran Pam Grier as his long-suffering partner, Sharon Stone as his wife and Rat Pack hangaround Henry de Silva as the bad guy. A good movie and a sign of things to come for Aikido-legend Seagal - at least until he did Under Seige 2.
Derek Daniels
Super Reviewer
Above the Law Quotes
There are no approved quotes yet for this movie.