Absence Of Malice
(1981)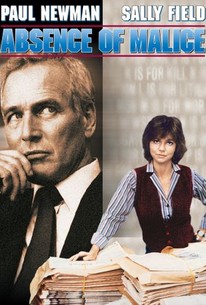 Movie Info
In this legal drama from director Sydney Pollack, Sally Field stars as Megan, an ambitious newpaper reporter who, based on information from FBI investigator Rosen, played by Bob Balaban, writes a scathing article that implicates Gallagher, a reclusive business-owner played by Paul Newman, in the recent disappearance of a labor leader. When Gallagher confronts Megan and sets her straight, the two team together to prove his innocence and have a few romantic interludes along the way. Wilford Brimley and Melinda Dillon also star. ~ Matthew Tobey, Rovi
News & Interviews for Absence Of Malice
Critic Reviews for Absence Of Malice
Audience Reviews for Absence Of Malice
Understandably, this is considered one of the greatest movies about journalism. I think it is mostly due to the fact that it takes an even position on both sides of the story. On the one hand you have Sally Field as Maggie just trying to get recognized with a hot story, but then you also have Paul Newman's Gallagher falling victim to suspicion of criminal acts. Sydney Pollack makes a case for both sides and ultimately decides that they both have reasoning for what they do. When Paul Newman eventually sets his mastermind scheme into effect, we see who the true victims are. It's really interesting to see what goes into a news story, but also see that they aren't just made up words, they're real people and real events.
Conner Rainwater
Super Reviewer
A great journalism drama/thriller with great actors, it's even pretty exciting for the most part. If you like movies about journalism, I highly recommend it.
½
Absence of Malice is another one of those early '80's news/courtroom dramas where people have to face what's legal and what's moral. The film stars Paul Newman as Michael Colin Gallagher, a liquor warehouse owner in Miami whose father was a player in the syndicate. Gallagher is clean, but a federal prosecutor (Bob Balaban) use him as a way to gain leverage in the case of a missing union boss. A story is "leaked" to reporter Megan Carter (Sally Field) who ends up writing the story and starting the snowball effect of events that soon goes out of control. To be perfectly honest, the only reason to watch this film is for Paul Newman. Newman once again electrifies the screen. The rest of the cast is blah. The story, which starts out interesting, soon turns into a ridiculous cat and mouse game that is far from believable. You could compare this film to All the President's Men or ...And Justice for All but they aren't really in the same league. The only other redeeming part of the film is Wilford Brimley's cameo near the end of the film. He makes a rather dull ending a little more exciting. Other than that the film is a dull exercise in how to suckle onto a popular genre.
Chris Garman
Super Reviewer
Absence Of Malice Quotes
There are no approved quotes yet for this movie.