Absolute Power
(1997)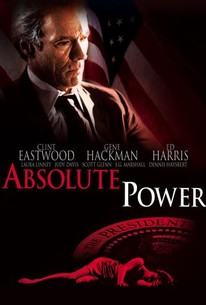 TOMATOMETER
AUDIENCE SCORE
Critic Consensus: Absolute Power collapses under its preposterous plotting despite an all-star cast and Clint Eastwood's deft direction.
Movie Info
In this thriller, an aging cat burglar becomes a crusader embroiled in a deadly cat-and-mouse game involving murder and a government cover-up. Adapted by distinguished scenarist William Goldman from a novel by David Baldacci and featuring a powerful all-star cast, the story works at different levels, not only as a straight-forward thriller but also as an insightful look at the love between the old thief and his estranged daughter, a highly successful prosecuting attorney. The trouble begins when ex-con Luther Whitney (Clint Eastwood, who also directed) decides to pull off one last heist before retiring. Just as he finishes looting the vault of a well-fortified mansion, a drunken couple enters the adjoining bedroom apparently eager to start making love. But something goes awry and a violent tussle ensues that abruptly ends when gun-wielding men bust in and shoot down the woman. During the ensuing chaos, Luther slips out. Only later does the audience learn that the would-be lovers were U.S.-President Alan Richmond (Gene Hackman) and Christy Sullivan (Melora Hardin), the young wife of the President's biggest supporter Walter Sullivan (E.G. Marshall). As the investigation and cover-up begins, Luther, who has already been contacted by hard-boiled and suspicious detective Seth Frank (Ed Harris) begins to fear that he will be blamed for the killing and prepares to leave the country. He tries to see his daughter Kate (Laura Linney) to make peace with her for having been absent in prison during most of her life, but she rejects him. Luther goes to the airport, but just before he flies, he sees a press conference in which President Richmond, without so much as a twitch, goes on a tirade concerning his stand against violence. Something inside him snaps and he abruptly decides to stay and fight for justice. ~ Sandra Brennan, Rovi
Critic Reviews for Absolute Power
Audience Reviews for Absolute Power
A taunt, riveting and first-rate thriller with a twist. A compelling, well-character drawn and masterfully crafted crafted thriller from Director, Clint Eastwood. Eastwood is brilliant, he gives a great and gritty performance. Laura Linney is excellent. Ed Harris is terrific. It`s a utterly exciting and pulse-pounding thrill-ride. A fantastic movie. It delivers top-notch acting, tightly-paced plot and outstanding craftsmanship. Thrillers don`t get anymore exciting or smart than this one.
Okay movie. Didn't really stay focused....so how good could it have been? Typical 90's movie.
Martin Sahlin
Super Reviewer
This is a really fun mystery thriller. If you love Clint Eastwood and the genre, it's practically a shoe in. I really liked the idea of knowing the answers, but not knowing why they were relevant until the story unfolded. Clint Eastwood as a jewel thief is a really interesting thought. Usually he's on the other side of the law, but it turns out he can play both sides with complete ease. It's also bizarre when Gene Hackman plays evil characters because he does it so well.
Conner Rainwater
Super Reviewer
Absolute Power Quotes
There are no approved quotes yet for this movie.