Absolutely Anything
(2017)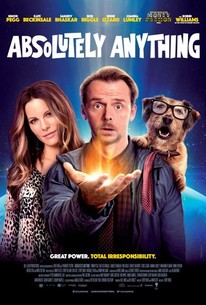 TOMATOMETER
AUDIENCE SCORE
Critic Consensus: Given the impressive array of talent involved in Absolutely Anything -- and the near-total lack of laughs it provokes -- this Monty Python reunion can only be regarded as a disappointment.
Absolutely Anything Photos
Movie Info
Monty Python alumni John Cleese, Terry Jones, Michael Palin, Terry Gilliam, and Eric Idle reunite for this sci-fi comedy directed and co-written by Jones (along with Gavin Scott), and centering on the story of a group of mischievous extraterrestrials (voiced by the Python crew) who grant embittered schoolteacher Neil Clarke (Simon Pegg) extraordinary powers in order to see how he will use them. Subsequently seeking the wisdom of his loyal canine companion Dennis (voice of Robin Williams) in order to use his powers wisely, Clarke is ultimately forced to choose between the girl of his dreams (Kate Beckinsale), or the four-legged friend who has never left his side. ~ Jason Buchanan, Rovi
News & Interviews for Absolutely Anything
Critic Reviews for Absolutely Anything
Audience Reviews for Absolutely Anything
Look, I think it should be said outright that the Monty Python crew produced two of my favorite comedic films of all time. Those two films are Monty Python and the Holy Grail and Life of Brian. The latter would, easily, be in my top 3 comedies of all time, along with Young Frankenstein and Black Dynamite. In what order I would put them in is really irrelevant, it depends on my mood. Regardless, Monty Python are considered comedy legends and for good reason, they've written some of the best comedy the world has ever seen. The death of Graham Chapman, understandably, put the group to rest and reunions have been eagerly anticipated and, somewhat, delivered upon. They did a series of stage shows in 2014 that were quite successful for the group. Which brings us to this movie, which was, somewhat, promoted as a Python reunion. The reason I start with this is the fact that I'm curious as to how many people actually consider this a Python reunion? In my opinion, I wouldn't really call it that. Yes, all the Pythons voice aliens in this movie, but it's not a real reunion because the movie is based off a script that Terry Jones and Gavin Scott wrote. As far as I understand it, if my math doesn't fail me, Terry Jones is only ONE of the five remaining living members of the troupe. Therefore, in spite of all being in the same movie, or voicing characters in the same movie at least, this does not qualify as a Python reunion. I'd have to think that if all five members were involved in the writing of this film's script that this would have ended up being considerably better than it was. This movie also has the unfortunate distinction of being the last movie Robin Williams completed before his death. Conceptually speaking, this really is pretty much Bruce Almighty. I mean, Neil is given the power to, literally, do absolutely anything, hence this film's very creative title, like Bruce was in Bruce Almighty. Only difference is that the power in this flick is bestowed by aliens and not by Morgan Freeman, who IS God and he actually wasn't playing a character. That's the only difference here. Well, there is one other difference and it's a pretty big one. Say what you will about Bruce Almighty, but that film at least had an actual structure and Bruce gaining his powers served some sort of purpose to its arc. And, of course, I'm not saying that Bruce Almighty is the Breaking Bad of comedic films, but at least there was some rhyme and reason as to why everything was happening. This movie, on the other hand, eh, not so much. When I say that there's no real structure to this film, I really do mean that. There's very little set-up before Neil ends up with the power to do anything he wants. All he has is to say what he wants, wave his hand and it happens. Say Neil wants a bunch of tits flying over his head, he can make it happen. But you're given very little time to get used to the idea of Neil being sort of a loser who wants to get out of this rut that his life is currently on. The entire conceit is so absurd, because the scene before he realizes he has the power, when his friend Ray asks him if he could have anything in the world, what would it be? People don't really talk like that in real life, nobody just comes up and says that to you. I mean, maybe they do, but not the way it was done in this movie. It's just so obvious about its intentions, that it just lacked any sort of subtlety. It just felt fake and that's the last thing you want to think while you're watching a movie. You wanna immerse yourself in this world and these characters, but you are unable to do so with this movie when you have dialogue that's so obviously trying to play into the concept. Perhaps that shouldn't be something to complain about, but I felt it was a negative in this movie. But, to me, the biggest issue with this would have to be the fact that this is just a series of skits. The movie is essentially Neil saying a bunch of random shit that would, hopefully, get a laugh out of you. I did like Neil turning Ray's crush (who wants nothing to do with him) into a cult leader that worships Ray's every move. That was actually really funny. Perhaps it's not funny in every scene they are in, but just a funny idea in theory. The characters are one-dimensional. There's literally nothing to Neil other than him doing absolutely anything, here goes that phrase again, and not actually using his powers for good. He uses them for selfish reasons. And, really, that's the road the story should have gone down. There's an interesting nugget of an idea here in exploring Neil's relationship with Catherine in that how can she know that he didn't set everything up perfectly so he could win her over. But that is said the one time late in the film and is never brought up again. And, fine, if you want this to be a straightforward comedy, with none of the 'moralizing' about using powers for good instead of selfish reasons, then you should have at least had some more consistent comedy. I'd have to say that more than half of the jokes in this movie end up falling flat. It just feels like it's a movie that's designed around the idea of trying to fit in as much random jokes as they possibly could. Because they can do anything (sigh) that they want. There's a scene where Grant, Catherine's possessive ex, makes Neil say that all pasty-white Englishmen have large ears and webbed feet. Why? I don't know, just because. And, because Grant is a villain, he needs to be an asshole. The editing is also very awkward. Sometimes you'd be with the aliens (or Catherine and Rosie) and they'd just move on to the next scene without any real transitions. They just throw you into it and it's a little jarring. And not to mention that, again, a lot of these jokes fall flat and you're like 'was that it?'. There's a few scenes with Catherine and Rosie that ends with them laughing because they probably know that it wasn't a good joke to begin with and they hope their laughter is somehow contagious. It wasn't and it failed miserably. The cast is enjoyable. Simon Pegg is always likable and that doesn't change here, even if the movie fails him, Kate Beckinsale is always good and she ages like a fine wine and Robin Williams was a comedy legend. But, as well-cast as this may be, and I mentioned this with Pegg, the script just fails them at every turn. Which is a shame too because, despite the fact that there's not one original bone in this movie, I felt that this could have been an entertaining enough movie if a lot more work was put into the script. Like a LOT more. Like you need to go through several drafts, each one improving upon the last draft, for you to even get something that's even marginally entertaining. There's a reason why people rarely ever film their first drafts as it is, because it'll probably suck. And that's probably too harsh to say about this movie, I found it watchable and it does have its moments, but there's no denying that a lot more work needed to be put into this before it was ready to be shown off to the rest of the world. It's obviously too late for that now, given that it's been a few years since this was released. I don't know what else to say. Can't say I'd recommend it, it just falls flat 65% of the time it tries something and the other 35% isn't good enough to make a real difference. If you wanna watch something to honor the memory of Robin Williams, watch the Fisher King (ironically directed by Terry Gilliam, another Python member) instead. And if you wanna celebrate Monty Python's legacy, Life of Brian and The Holy Grail are still in existence, there's nothing stopping you from watching those instead.
Jesse Ortega
Super Reviewer
A better cast, worst scripted Bruce Almighty. The execution is severely lacking, and as much as I adore seeing Simon Pegg and Kate Beckinsale ham up the screen, it seems obvious how much better this could (and should) have gone. What we are left with in Absolutely Anything is a movie that was engaging, yet glaringly bad, the sort of thing I didn't hate watching, but will never watch again.
A waste of plot briefly saved by a few laughs!
Film Crazy
Super Reviewer
Absolutely Anything Quotes
There are no approved quotes yet for this movie.