The Accidental Tourist
(1988)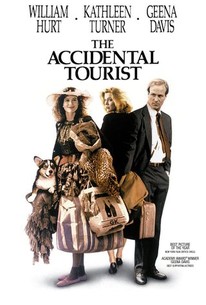 The Accidental Tourist Photos
Movie Info
Director Lawrence Kasdan and Frank Galati adapted their screenplay for The Accidental Tourist from Anne Tyler's novel. William Hurt plays Macon Leary, a well-known "travel advisor" headquartered in Baltimore. The tragic death of Leary's son causes him to withdraw from the world, which in turn prompts his wife (Kathleen Turner) to walk out on him. Recuperating from a broken leg, Leary moves in with his sister (Amy Wright) and brothers (Ed Begley Jr., David Ogden Stiers)-staid middle-aged intellectuals all. Discipline problems with his dead son's dog lead Leary to hire flaky professional dogwalker/trainer Muriel Pritchett (Geena Davis, who won an Oscar for her performance). The only non-uptight person within shouting distance, Muriel begins to melt Leary's self-protective shell. Once his wife realizes that she has some competition, she makes moves to get him back. But he has by now become accustomed to Muriel's unfettered lifestyle. ~ Hal Erickson, Rovi
News & Interviews for The Accidental Tourist
Critic Reviews for The Accidental Tourist
Audience Reviews for The Accidental Tourist
William Hurt sure made some really great movies back in the 80s and 90s. I cant say that I have watched anything lately that he has starred in. This movie was very good. I had a hard time getting past Geena Davis and her horrible 80s fashion, but I guess that I cant blame the movie itself...just the era. This movie had a very nice ending, which is always a plus for me.
Cynthia S.
Super Reviewer
½
The Accidental Tourist starring Geena Davis, William Hurt and Kathleen Turner is a very good film based on the best selling novel. William Hurt and Kathleen Turner play a couple who's child passes away which places a lot of strain on the marriage. The couple divorces and in comes an off the wall lady into his ife (Geena Davis). She re introduces a new passon in his life...Geena Davis won the Oscar for the Best Supporting Actress and rightfully so.
Mason Williams
Super Reviewer
The thing I really love about Kasdan's scripts is that he tells us what happened without TELLING us what happened. A little slow past the first half but still neatly wrapped with great underscored humor. I love Welsh Corgis!
Alice Shen
Super Reviewer
The Accidental Tourist Quotes